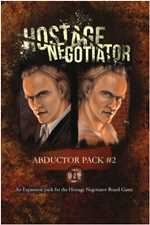 Hostage Negotiator Card Game: Abductor Pack #2
In Abductor Pack 2, you will face off with not one, but TWO Abductors! The Pedersen Twins are trapped in a Port Authority office after a rival tipped off the Feds to one of their smuggling operations. But they have Hostages and don?t plan to go quietly.
This Abductor Pack adds an additional 2 Abductors and their Demands, a few Terror Cards, and a new card type called ?Decide? Cards that will have you choose between a couple different options when faced with a difficult situation.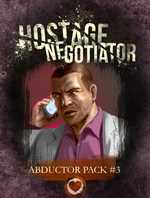 Hostage Negotiator Card Game: Abductor Pack #3
In Abductor Pack 3, a member of your own police force has taken hostages. He claims he?s being framed for the recent murder of the Chief and youre the only one who believes him. Some of the hostages are starting to sympathize with him, making your job more difficult. Everything is riding on your shoulders.
In this exciting new abductor pack you will have to deal with hostages who get Stockholm Syndrome, which means they identify with the hostage taker. Saving those that want to be saved is hard enough! Will you be up to this new challenge?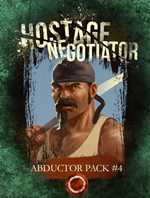 Hostage Negotiator Card Game: Abductor Pack #4
In Abductor Pack 4, the abductor has hijacked a bus full of people and is making a run for the border. You?ll be forced to employ tactics you?ve never used before and deal with the challenges of negotiating in different locations. Are you up to the challenge? Innocent lives are depending on you.
In this exciting new Abductor Pack you will have to deal with a new card type: Location Cards! The abductor?s bus will need to be stopped and the all new Tactics Cards are just the things you?ll need to set up a road block or creat a diversion. Its high speed negotiation just waiting for you!
Saloon Tycoon Board Game
Yee haw! Welcome to the Old West! Yer the new and lucky owner of a Saloon lot smack dab in the middle of town. But ya ain?t the only one! Outwit your opponents to become the most popular Saloon owner in town by addin? new features for yer customers and attractin? influential citizens to visit yer Saloon. But be careful! Don?t let yer Saloon become a place where outlaws loiter!
Roll up yer sleeves, put on yer hat, and let?s go build!
Salvation Road Board Game
The old world is gone, blasted away in a moment of global ignorance and fear. Your group barely survived the devastation, and now you are struggling to live in a wasteland you hardly recognize. Every day is a battle against starvation, disease, and violent marauders intent on snuffing out the last fires of civilization. But there is a faint glimmer of hope: a rumor of a community called Salvation, with food, water, and safety for anyone who can reach it. Gear up and head into the wasteland, and try your luck on the journey down Salvation Road.
Salvation Road is a cooperative strategy game of resource collection and survival. Each player controls two characters: a hero with helpful skills and a survivor with a hindrance you must manage. The wasteland starts out relatively safe, but marauders will quickly arrive, threatening to kill the characters or overrun their compound. Players must plan carefully to avoid attack, while also dealing with apocalyptic events and a reactor that is getting ever closer to meltdown. If they can escape the marauders in time, they will have to survive the harsh journey to Salvation.
Contents:
1 Game Board
16 Character Cards
16 Character Standees
16 Activation Markers
11 Location Cards
16 Apocalypse Cards
12 Search Cards
12 Road Cards
13 Marauder Tokens
60 Resource Tokens
5 Threat Tokens
5 Location Use Markers
6 Threat Dice
1 First Player Marker
1 Truck Token
36 Wound Tokens