Evolution Board Game: Climate Conversion Kit
In Evolution: Climate, players adapt their species in a dynamic ecosystem where food is scarce, predators lurk, and the climate can swing between scorching hot and icy cold. Traits like a Hard Shell and Horns can protect your species from Carnivores while a Long Neck will help them get food that others cannot reach. Heavy Fur and Migratory can protect your species from the cold while being Nocturnal or Burrowing will provide protection from the cruel desert sun. With over 200,000 ways to evolve your species, every game evolves into a different adventure.
The Evolution: CLIMATE Conversion Kit contains everything you need to transform the Evolution base game into Evolution: CLIMATE. Purchase this kit ONLY if you have the Evolution base game.
Contents: 88 Trait Cards, 30 Event Cards, 1 Climate Track, 1 Climate Marker, 1 Player Aid.
Evolution Board Game: Flight Expansion
Evolution: Flight, an expansion for Evolution, introduces avian species into the ecosystem. Now your species can swoop on unsuspecting prey from above, fly away from predators, or soar to a new location when food is scarce. Will the ability to fly propel you to new heights? Or will it bring your downfall? Explore the expanding Evolution world and find out!
With this expansion, you may now choose between creating a normal species and creating a flying species. Flying species have special costs and advantages:
Costs
1. You must discard 2 cards instead of 1 to create a flying species.
2. Flying species have a maximum body size of 3 instead of 6.
3. Flying species have an upkeep cost of food equal to their Body Size. The upkeep cost simulates the amount of food needed to maintain wings.

Advantages
1. Some of the new expansion traits, like Dive-Bomb and Brood Parasite, only work for flying creatures.
2. A species with Flight may take food from the Cliff, giving it an extra source of food.
3. A species with Flight cannot be attacked unless the attacking Carnivore also has the Flight trait.
4. If a species with Flight also has the Carnivore trait, you may discard from your hand to negate Symbiosis, Warning Call, or Climbing for when it attacks.

The expansion changes tactics and strategy dramatically, but it doesn't change the base game's core mechanics, so it's easy to learn.
Say Anything Family Edition Game
Here?s the game that kids and parents enjoy playing together. ?Which celebrity would make the best babysitter?? This is your chance to say anything. The family-friendly questions make Say Anything Family Edition perfect for game nights.
Contents: 60 question cards, 6 dry-erase pens, 6 dry-erase boards, 1 Select-O-Matic 6000, 12 player tokens, 1 dry-erase score board, 1 full color rules.
Say Anything Game
Say Anything is a light-hearted game about what you and your friends think. It gives you the chance to settle questions that have been hotly debated for centuries. For instance, "What is the most overrated band of all time?" or "Which celebrity would be the most fun to hang out with for a day?" So dig deep into your heart or just come up with something witty
this is your chance to Say Anything!

How to Play:

1) Ask a question from the card you draw:
If you could have a "BIG" anything, what would it be?
What's the most important invention of the last century?
Which website would be hardest to live without?
What's the best activity for a first date?
What's the worst thing to say to a cop after getting pulled over?

2) Everyone else writes an answer and turns it face-up. No duplicate answers!

3) Secretly choose your favorite response using a genuine state of the art SELECT-O-MATIC 5000.

4) Everyone else has two betting tokens to bet on which answer you chose. They can bet both tokens on one answer or split them between two different answers (just like in Wits & Wagers).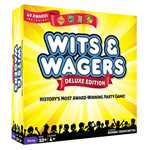 Wits And Wagers Board Game: Deluxe Edition
Not a trivia buff? It doesn't matter! In Wits & Wagers, each player writes a guess to a question such as ?In what year did the bikini swimsuit makes its first appearance?? or ?How many feet wide is an NFL football field?? and places it face-up on the betting mat. Think you know the answer? Bet on your guess. Think you know who the experts are? Bet on their guess. The closest answer pays out according to the odds on the betting mat. Strike it big and you?ll be cheering like you just hit the jackpot!
Wits & Wagers is a trivia game that lets you bet on anyone?s answer. So you can win by making educated guesses, by playing the odds, or by knowing the interests of your friends. It can be taught in 2 minutes, played in 25 minutes, and accommodates up to 20 people in teams.
Wits & Wagers Deluxe Edition is the same game you know and love, but now loaded with upgrades:
New casino-quality wagering chips
Crease-free felt mat
Deluxe dry-erase markers with erasers
Premium cardboard currency chips

Do you know the average number of pizza slices eaten by Americans each day? Of course not! That?s the fun. No one knows the answers, but everyone can take a guess. The felt betting mat and different payout odds will make you feel like a Vegas high roller. Get lucky and you?ll cheer like you hit the jackpot!

Read a fun question...Everyone writes down a guess.Place your bets... Which guess is closest?Feeling confident? Bet on yourself.Think others know better? Bet on them.No idea? Bet on any guess and hope to get lucky.
Wits and Wagers Family Edition Board Game
Wits and Wagers Family brings history?s most award-winning party game to the entire family! Now, the parents are finally the underdogs! Do you know the average number of times a person blinks each day? Of course not ? and you don?t need to! That?s the fun. No one knows the answer. Take a guess and score points by choosing whose guess is closest. With easy rules and exciting game play, Wits and Wagers Family will get the whole family cheering and laughing together.
Contents: 125 question cards,5 dry-erase pens, 5 dry-erase answer boards, 1 ?1? answer board, 5 large Meeples, 5 small Meeples, 1 dry-erase score board, 1 full color rules.
© Spiral Galaxy Games 2008 - 2017