Castles Of Mad King Ludwig Board Game
King Ludwig II of Bavaria has commissioned a new castle to built, one room at a time. Each player acts as a building contractor who is adding rooms to the castle he's building while also selling his services to other players.
In the game, each player starts with a simple foyer. One player takes on the role of the Master Builder, and that player sets prices for a set of rooms that can be purchased by the other players, with him getting to pick from the leftovers after the other players have paid him for their rooms. When a room is added to a castle, the player who built it gains castle points based on the size and type of room constructed, as well as bonus points based on the location of the room. When a room is completed, with all entranceways leading to other rooms in the castle, the player receives one of seven special rewards.
After each purchasing round, a new player becomes the Master Builder who sets prices for a new set of rooms. After several rounds, the game ends, then additional points are awarded for achieving bonus goals, having the most popular rooms, and being the most responsive to the King's demands, which change each game. Whoever ends up with the most castle points wins.
Castles Of Mad King Ludwig Board Game: Secrets Expansion
Secrets is the first expansion to Castles of MAd King Ludwig.
Secrets lurk in the shadows of the King?s castle. Dozens of hidden Swans are scattered among thirty new rooms of every shape and size. Surrounding and protecting your castle are new Barbicans and Moats, making every room inside the castle even more valuable. The King has come up with more Favors, including one for creating courtyards. Finally, clever Secret Passages enhance connections and muffle sound from Activity rooms.
Colony Card Game
In Colony, each player constructs and upgrades buildings, while managing resources to grow their fledgling colony. In a clever twist, dice are used as resources, with each side/number representing a different resource. Some resources are stable, allowing them to be stored between turns, while others must be used right away. Buildings provide new capabilities, such as increased production, resource manipulation, and additional victory points. Using dice-as-resources facilitates a dynamic, ever-changing resources management mini-game while players work to earn victory points by adding building to their tableau on their way to victory.
Colony includes 28 different building card types, of which only seven are used each game in addition to the fixed buildings that are used each time that you play.
Favor Of The Pharaoh Dice Game
In Favor of the Pharaoh, players roll dice to advance in Egyptian society, each turn gaining a new contact and more influence. These contacts give players more dice to roll or special powers to adjust those dice. The game culminates in a tense final roll-off as players vie for the Pharaoh's favor.
This re-imagining of Tom Lehmann's earlier game "To Court the King? boasts over 50 different characters, each of whom has a unique ability. In each game, only 21 of those characters are used, increasing variety and replay value. Also new are 6 different custom dice with special abilities, special Immediate dice, and bonus tokens that are used to tweak players' rolls.
More than 100 sturdy tiles depict the characters with easy-to-read imagery. Double-sided level bars organize them and vary their claiming requirements from game to game, while pyramid-shaped dice frames hold players' locked dice. For the final roll-off, notched slots mark the high roll, while the current leader holds the wooden Pharaoh token.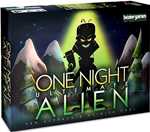 One Night: Ultimate Alien Card Game
In One Night Ultimate Alien, your village has been invaded by extraterrestrial beings. Fully compatible with all One Night games!
One Night: Ultimate Vampire Card Game
No moderator, no elimination, no werewolves.
In One Night Ultimate Vampire, the sun has just set, and vampires have descended on your sleepy little town, slowly turning the villagers into even more vampires. Fortunately, the village has several residents with special powers, with most willing to help eliminate this fanged menace!
One Night Ultimate Vampire is a fast game for 3-10 players where everyone gets a role: The nefarious Vampire, the well-meaning Cupid, the sneaky Assassin, or others, each with a special ability. In the course of a single evening, your village will decide who among them is a vampire... because all it takes is finding one vampire to win!
Vampire can also be combined with the original One Night Ultimate Werewolf games!
One Night: Ultimate Werewolf Card Game
One Night Ultimate Werewolf is a fast-paced game where everyone gets to be a different role. In the course of only one night and the following morning, the players will determine who among them is a werewolf...hopefully. One Night Ultimate Werewolf is a microgame of the party game Ultimate Werewolf that doesn't need a moderator. There's no elimination, and each game lasts about 10 minutes.
Suburbia Board Game: 5 Star Expansion
Now that your town is up and running and is acting like a proper township, it's time to start growing even more rapidly by turning your borough into a tourist destination. Build landmarks, monuments, and tourist traps to increase your reputation and income while determining the player order each turn. In addition, the metropolitan area has expanded, allowing up to five players to build the city of their holiday dreams simultaneously.
Suburbia 5 Star (5*) adds fifty new unique building tiles, a new resource to manage, and components for a fifth player to the Suburbia base game. The new star system determines player order, provides bonuses and penalties to the most/least tourist-friendly towns, and even breaks ties for public and private goals.
Suburbia Board Game: Suburbia Inc Expansion
The expansion for the award-winning strategy game Suburbia!
Your borough has decided that it?s time to incorporate: What does that mean for you, as the city planner? Well, lots more paperwork, that?s for sure. But it also gives you great new possibilities for your little town. Define borders that are unique and provide you with all new benefits. Build more than a dozen new, powerful buildings to optimize your income and reputation. And take advantage of new Bonuses (to increase your income) and Challenges (to boost your reputation) by achieving mid-game goals.
The Palace Of Mad King Ludwig Board Game
King Ludwig II of Bavaria has called all great architects to design his greatest achievement: a world-renowned palace. Only the best will do! Gorgeous appointments, white stone, surrounded by water, with swans everywhere. Oh, and the Ludwig touch? All the architects must design the palace together. The designer who shows the strongest influence will receive the order to build it.
In The Palace of Mad King Ludwig, each player builds rooms one at a time in a single gigantic palace. As rooms are completed, a moat slowly forms around the outside. Once the ends of the moat connect, the palace is finished, and the player who has contributed the most to the palace wins!
In more detail, this sequel to Castles of Mad King Ludwig shares a few similarities to its predecessor, such as tile-laying, room rewards, and the magic of watching a unique palace take shape through the course of the game, but the gameplay is entirely different, with no auction, a clever endgame timer that graphically builds pressure for players as the moat slowly closes in around the palace, and a twist on resource management with multi-colored swan tokens being used as currency, points, and the keys to new abilities.
Ultimate Werewolf Card Game: Inquisition
Ultimate Werewolf: Inquisition is a stand-alone game of deduction, secrets and betrayal...with no elimination. Part of the fun is figuring out who on your team are the werewolves, but even then, you?ve still got to outsmart them!
A terrible thing is happening in a local village: werewolves are responsible for the deaths of many villagers. Unable to determine who among themselves are werewolves, they?ve called in a group of master inquisitors to help sort out this mess before it?s too late. That?s where you and your team come in. No stranger to werewolf infestations, you know that the best thing to do is to start lynching suspects.
You no sooner get started on this project when you discover that there?s a problem...there are werewolves on your team of inquisitors! Now you?re in a serious pickle: you need to save the village while thwarting the werewolves whom are working alongside you...
Contents: 19 Resident cards, 19 Hut cards, 12 inquisitor cards, 1 rulebook, 50 wood voting tokens and 1 large wood Grand Inquisitor marker.
You Suck Card Game
All your life all you've wanted was to have the best, the biggest, and the most awesome tick collection in the world. With ''You Suck'', that dream is close to becoming a reality.
Using a suited deck, you and your opponents will play cards onto seven different ticks, each with a unique power. Take advantage of these powers to ensure that you'll match your bid and capture even more ticks. You'll score points for bidding correctly and for capturing special bonus point ticks!
That's right ? it's a tick-taking game, a close cousin of "trick-taking" games, but oh-so-much better because it has cute ticks. And it's more fun.
Contents: 75 cards, 6 wood cubes, 8 wood discs.
© Spiral Galaxy Games 2008 - 2017