Between Two Cities Board Game: Capitals Expansion
Now at the pinnacle of your career, you are sought after by two capital cities to build their city centers. Not only do you have to consider the natural features that were the reason for their founding, you also need to ensure the civic buildings are appropriately placed, and you must not forget to satisfy the citizens? demands along the way.
Between Two Cities: Capitals expands the base game by adding several new challenges: landscapes, districts, and civic building tiles. Landscape mats give each city a unique layout to build on and around. Districts give players a majority bonus for connecting specific types of tiles. Civic building tiles are a new type of building tile. Each unique civic building wants to be adjacent to 2 specific tile types (and not 1 specific tile type). This is not a stand-alone expansion; you?ll need the original Between Two Cities game to play it.
Contains:
21 Civic tiles
7 Landscape tiles
14 wooden city tokens
7 district cards
3 district scoring tiles
1 rulebook
1 Automa rulebook & 1 Automacity mat
Charterstone Board Game
The prosperous Kingdom of Greengully, ruled for centuries by the Forever King, has issued a decree to its citizens to colonize the vast lands beyond its borders. In an effort to start a new village, the Forever King has selected 6 citizens for the task, each of whom has a unique set of skills they use to build their charter.
In Charterstone, a competitive legacy game scaled for 1-6 players, you construct buildings and inhabit a shared village. Building stickers are removed from cards and permanently added to your charter on the board, becoming action spaces for any player to use (kind of like Lords of Waterdeep and Caylus). Thus, a few available buildings soon grow into a bustling village with dozens of actions.
Charterstone features the following:
no rules to learn before the first game: you will build the rulebook as you play
engine-building elements within each game and over the course of the campaign
a branching storyline where short-term decisions impact long-term mechanisms
time as a resource, impacting the cost to use buildings and player order
one component that has never been in a board game (update: 1 game has it!)
85+ ?crates? to unlock: 350+ unique cards, 230+ wooden tokens, and 36 metal coins

Your journey through Charterstone?s many secrets will last 12 games, but it doesn?t end there. Your completed village will be a one-of-a-kind, variable worker-placement game.
Charterstone Board Game: Recharge Pack
The Charterstone Recharge Pack contains the components for a second campaign of Charterstone.
It is completely optional as Charterstone is designed to be infinitely replayable after the first twelve-game legacy campaign. The back side of the game board (included in the core game) is used for the second campaign. It contains all components that were permanently changed in the first campaign while allowing players to use unchanged components like wooden resources, meeples, and metal coins.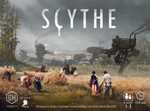 Scythe Board Game
The ashes from the first Great War still darken the snow in 1920s Europa. The capitalistic city-state known simply as "The Factory," which fueled the war with heavily armored mechs, has closed its doors, drawing the attention of several nearby countries. With characters from five factions converging onto a small but highly desired swath of land, who will gain fame and fortune by establishing their empire as the leader of Eastern Europa?
Scythe is a competitive 4X game set in an alternate-history 1920s. It is a time of farming and war, broken hearts and rusted gears, innovation and valor.
Contents:
1 Game Board
5 Dual-Layered Player Mats
5 Faction Mats
3 Rulebooks and Guides
2 Power Dials
31 Automa Cards
28 Encounter Cards
23 Objective Cards
42 Combat Cards
12 Factory Cards
25 Miniatures
80 Custom Wooden Resources
40 Custom Wooden Meeples
20 Custom Wooden Structures
50 Wooden Tech Cubes and Recruits
30 Custom Wooden Stars
15 Custom Wooden Player Tokens
80 Cardboard Coins
6 Structure Bonus Tiles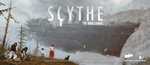 Scythe Board Game: The Wind Gambit Expansion
Mankind has long been confined to travel by land and sea, but a new technology has emerged from the greatest minds in Eastern Europa: airships. These steam-driven behemoths sail freely across the sky, aiding their empire's expansion through innovation and confrontation. As the years pass, the world has come to understand that no single faction will rise above the rest for any span of time. In the hope of decreasing the conflict and increasing the peace, leaders of Europa begin to gather each year to declare a new way for the factions to resolve their differences.
Scythe: The Wind Gambit, an expansion for Scythe, adds two new modules that can be played together or separately at any player count and with either the base game on its own or with other Scythe expansions.
Airships: (1 miniature per faction; 16 tiles) An airship is a new type of unit that is distinctly different from characters, mechs, and workers. Unlike those units, airships never control territories. Airships are moved via a Move action, and rivers and lakes do not constrain their movement. Each airship has two randomly combined abilities (1 aggressive and 1 passive ability; same combo for all players).
Resolutions: (8 tiles) The resolution module changes the way a game of Scythe ends. If you play with this module, ignore the standard end-game trigger (when a player places their sixth star, everything stops and the game ends). Instead, the resolution tile for the current game will determine when and how the game ends.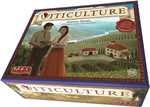 Viticulture Board Game: Essential Edition (On Order)
Viticulture Essential Edition is a competitive worker-placement game set in the foothills of Tuscany. It features 86 custom wooden tokens and 232 beautifully illustrated cards.
Contents:
1 Game Board (double-sided)
6 Vineyard Mats (double-sided)
42 Vine Cards
36 Wine Order Cards
38 Summer Visitor Cards
38 Winter Visitor Cards
36 Mama & Papa Cards
20 Page Full-Color Rule Book
1 Quick-Reference Guide
18 Field Cards
24 Automa Cards (Solo Variant)
31 Custom Wood Worker Meeples
6 Custom Wood Grande Meeples
48 Custom Wood Structure Tokens
6 Custom Wood Rooster Tokens
6 Custom Wood VP Tokens
6 Custom Wood Residual Tokens
50 Glass Tokens
Viticulture Board Game: Essential Upgrade Pack
The Viticulture Essential Upgrade Pack turns a Second-Edition copy of Viticulture into the Essential Edition. It includes 154 illustrated cards and 1 rulebook. These components are also included in the original Tuscany expansion pack.
Contents:
38 Summer VisitorCards
38 Winter Visitor Cards
36 Mama & Papa Cards
18 Field Cards
24 Automa Cards (Solo Variant)
1 Rule Book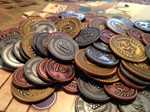 Viticulture Board Game: Metal Lira Coins Upgrade Pack
These 72 thick metal lira coins, originally designed and used in Tuscany Prima, fit into any Euro game. There are 36 copper-colored 1-lira coins, 24 silver-colored 2-lira coins, and 12 gold-colored 5-lira coins.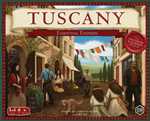 Viticulture Board Game: Tuscany Essential Edition
Tuscany Essential Edition features 3 expansions to Viticulture Essential:
1 extended board (matte, double-sided) and 36 wooden stars
6 structure mats and 36 structure cards (44 x 67 mm)
11 special worker cards (63 x 88 mm) and 2 special worker meeples per player (plus 2 generic)
© Spiral Galaxy Games 2008 - 2017