Animals On Board Board Game
Each player has his own ark and wants to take as many animals on board as he can.
Unfortunately, some guy called Noah claims all animal pairs for himself and has obtained an anti-pairing law. Therefore, any animal that a player has exactly twice on board at the end of the game must be discarded. However, you can circumvent the law if you manage to gather three, four or even five animals of a species. These are considered a herd and are not only permitted, but are even more valuable. It could be so easy if it wasn?t for one small issue: to form a herd, there usually is no way around getting a pair first... When the arks depart, will you win the game by having the most valuable single animals and herds on board?
ANIMALS ON BOARD is very easy to learn, yet poses tricky decisions. Do you gamble for herds or strike at opportune moments due to attentive play? Will you split a crowd in just the way you need and hope to get it later? Or will you try to screw the others by dividing their obvious crowds of interest? Whatever you do, you will feel the excitement of this fast, brilliant family game.
Camel Cup Board Game: Supercup Expansion
Witness the craziest camel race of all time, EVEN CRAZIER!
As the season continues, the cursed pyramid unleashes its magic power and incites the camels to get a move on! Meanwhile international reporters and photographers are on the spot, patiently waiting for the craziest camel-towers to stack up. Even the Egyptian high society has developed new betting techniques to profiteer.
Can you make the most of these new assets and surprise the other players with the craziest bets imaginable? There is only one way to find out: Let?s start the race!
Camel Cup Cards Game
Camel Up, the ?Spiel des Jahres? 2014, gets a crazed little brother with Camel Up Cards. Attend a topsy-turvy camel race in pocket size and bet like there is no tomorrow. Instead of using dice, the camels are moved via cards that are secretly co-determined by the players at the start of each stage. This provides influence on a whole new level and still holds many funny and surprising twists. Camel Up Cards is a stand-alone game that can be taken along wherever you go.
Cottage Garden Board Game
In Cottage Garden, you compete in the art of gardening and are working two beds with a variety of flowers. Whenever no unplanted box is visible on a bed, you have completed it, then you count your points and replace it with a fresh, unplanted bed. You gain points for all of the visible plant pots and planting bells.
In more detail, players select various polyomino tiles of flower beds from a central market grid, depending on the location of the "gardener", then place them on one of their two personal garden boards. Each board has several garden elements that are worth points when not planted over, and these are scored on two different tracks as soon as a garden has been finished. Crossing over a line on each track awards bonus tokens that can fill in empty spaces or give you a better selection of the flower bed tiles. Whenever a garden is finished, you receive a new one to complete. After the gardener completes her fifth lap around the market, the game enters its last round. The player with the most points from their completed gardens at the end of the game wins.
Der 7 Zwerg - Das Wurfelspiel Dice Game
Roll the dice! Bet right ? and score high!
The crazy dice game for big and dwarf, where you never stop being involved!
Players need to line up the seven dice ? one each for the seven main characters ? in order by size, but this is easier said than done, so you'll need to take chances to do this while others bet for or against your success.
Gluck Auf: The Big Card Game
In Glck Auf ? The big card game, you once again immerse yourselves in the world of coal mining. You wrest coal from your pits and load them to wagon trains. But only if you equip the waggon trains with a proper engine and a fitting order are you able to ship the coal off to gain victory points. This calls for quite some skillful management since you want to get the optimum out of the limited loading area and not waste too many actions. In the end, the winner is the player who has served the most valuable orders and also managed to acquire compatible shares and business objectives.
Glck Auf ? The big card game is a stand-alone game on par with its big brother Glck Auf (Coal Baron). It ingeniously re-imagines the worker placement mechanism of its predecessor and accomplishes a depth of gameplay which is rather unusual for card games. With a whole raft of fresh ideas, it is a must-have for all friends of Glck Auf and unique card games.
Grog Island Board Game
Even the mightiest pirates must one day retire from the life of plunder. But what comes afterwards? Well, on the peninsulas of Grog Island, the invest their loot in rock-solid businesses.
In this unique dice-auction game, you try to get your hands on promising pirate investments, such as peg-leg shops, figurehead studios, voodoo doll workshops or the infamous pub ?Grog Hole?.
However, the auctions are not just about placing the highest bid. Passing at just the right moment can be also very rewarding, because only the you will find the time to snatch the desired goods and trade with the landing merchant ships.
With its innovative use of dice and its engaging gameplay, Grog Island is a tactical treat for anyone looking for an unusual gaming experience.
Hook! Card Game
You will either play a pirate or a seaman. Every round, you will use one of your 3 Sight tiles to cathc as many parrots as possible, hit the opposing pirates and seamen, take cover behind barrels and bird cages to avoid hits, or drink rum to get oblivious to the pain. If you get hit too many times, you will be eliminated from the game early. Among the remaining players, the player with the most parrots will win the game.
Hospital Rush Board Game
Attetion all interns! There is a vacant doctor's position. This is the chance you have all been waiting for. But how far are you willing to go for it? Will you play nice and word hard or are you up for a little backstabbing and sneaky business at times?As new patients keep pouring in, you must prove that you've got what it takes. And in you attempts to cure diseases, you will occasionally have to deal with the willful misconduct of your fellow players.
Hospital Rush is pure comical fun and comes with a whole bunch of unique player boards. Their different special abilities bring a great variety to the game and present you with a new challenge each time you play.
Indian Summer Board Game
Before winter makes its appearance, a particularly warm fall bathes the forest in a golden shimmer. During the Indian Summer, New England blossoms one last time. Treetops are ablaze with countless colors ? a living rainbow, from green to orange to red. On their walks through the woods, the players discover all kinds of little treasures; they collect berries, nuts, mushrooms and feathers, or they pause for a moment to watch the shy inhabitants of the forest. At the heart of the game are puzzle tiles with holes that are placed on individual forest boards to cover up treasures, which can be collected over the course of the game. When players get their hands on these, they gain more options and an edge over their opponents. But all that counts in the end is to be the first to cover the forest floor completely with leaves.
Indian Summer is the second part of Uwe Rosenberg's puzzle trilogy following 2016's Cottage Garden, and is firmly geared towards more experienced players. The beautiful components perfectly catch the peaceful atmosphere of the forest and the new mechanics make for a fresh experience with more strategic possibilities.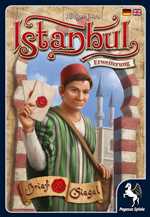 Istanbul Board Game: Brief And Siegel Expansion
Five new, promising places await the bazaar merchants in the second expansion for the multi-award-winning board game Istanbul, Letters & Seals. Now, players can deliver letters on behalf of the embassy and gain seals in return ? a valuable resource for which the secret society of Istanbul is willing to pay with rubies from secret sources ? which also affects the price for rubies. Kiosk and auction house on the other hand allow actions in which all players participate. And players who manage to bring their companion into play have a partner on the board, who can act independently from the merchant.
More flexibility, more interaction and the option to play on a huge 5x5 bazaar: the expansion Letters & Seals adds many more possibilities to the popular board game Istanbul but also manages to keep its flow and unusual fast gameplay for a family plus game. May the hunt for rubies continue.
Istanbul Board Game: Mokka and Bakschisch Expansion
Those who have mastered the trade, why don?t you plan to expand your range of goods with coffee? The expansion Mokka & Bakschisch offers you four new places with services and the opportunity to exchange rubies for coffee.
Loot Island Board Game
1640 A.D.A ghastly curse befell a beautiful island in the Indian Ocean. Soon, it was known that its dark magic would not only afflict whoever tries to take away anything from the island, but also haunt whoever even dares approach its coasts. Ingenious and opportunistic pirates soon realized the island was the perfect location to hide their loot, as, once buried there, it was almost impossible for it to be stolen (yet again). Centuries later, pieces of the lost maps were found by you and your fellow treasure hunters.
Join them to assemble the maps to find the treasure, but at the same time ruthlessly compete with them to get the biggest share of the loot for yourself. It is pirate treasure after all, arrr! The player who finds the best balance between cooperating and competing, together with the right timing of actions, and a bit of luck, wins the game. Will you be able to grab the most precious treasures and break the curse of Loot Island?
Contents:
1 Main Island board
7 Small Island tiles
1 First Player tile
1 Ship
15 Compass discs
5 Character cards
80 Curse cubes
18 Event cards
74 Treasure cards
88 Map cards
14 Healer cards
5 Player Aid cards
1 Score Pad
2 Rulebook (English, German)
Mombasa Board Game
As I expected, the East African Company's network of trading posts has spread far into the West. They were even able to expand into a couple of diamond mines. It seems reasonable to invest our recent yield here in Mombasa, rather than to continue our unrivalled commitment in Cape Town.
After all, it can only be to our advantage to have other irons in the fire. And when the day of reckoning comes, it will show whether our hoarding of holdings and our intransigent eagerness are worth it...
Mombasa is a lavish strategy game. Its depth and subtle interweaving of unique game elements will appeal to true gamers everywhere.
My Village Dice Game
An entire new chapter opens in the village chronicles as each player leads his very own village to fame and fortune.
You start with a small farmyard and one villager of each of the five professions: abbot, councilman, traveller, craftsman and merchant. You improve your village by adding buildings and field, pushing on with your travels and attracting customers and monks, all while time ticks steadily away. Every now and then a villager passes away, leaving his profession unoccupied. And even though you can train a descendant to fill his shoes, soon you have to neglect some areas to focus on others.
My Village is a stand-alone game that is set in the same cosmos as the award-winning Village.
It joins familiar elements with fresh mechanisms and will enchant new players as well as experienced Village fans.
Noria Board Game
A new era is looming on the horizon. The future of Noria is right in front of you, and you must guide your flourishing trading empire into prosperity. Discover flying islands, buy ships, and build factories. Invest in prestigious projects, and secure their success by passing on secret knowledge to politicians. For even above the clouds, there is still room for improvement...
At the center of the game is an innovative mechanism called "wheel building". Each player has an action wheel consisting of three rings, with slots for a number of different action discs. Over the course of the game, players try to obtain new discs and manipulate the rings of the wheel to optimize their action selection. Additionally, to ensure their investments bear fruit, they also need to bribe politicians with knowledge.
OctoDice Dice Game
A game for deep-sea researchers who are not afraid of tentacles ...
Roll the dice three times, putting 2 dice aside after each roll.
Combine white and black dice to carry out research actions.
Gain more knowledge points than your competitors!
Pi Mal Pflaumen Card Game
Everyone plays a card and whoever played the highest gets to claim one of the played cards first. Try to fulfill the most lucrative of fruit mixes. An easily accessible card game full of exciting decisions and with unique and stunning artwork!
Port Royal Card Game: Extra Cards Expansion
Calls for expeditions are not enough anymore, now you also must complete contracts ? either in competition against each other or racing against the clock together. Even if you have nobody else to play with, you do not need to pass on a game of Port Royal! With all the new challenges ahead, support from new persons is more than welcome.
Port Royal Card Game: PocketPlay
The successful card game Port Royal is back with a new installment: Port Royal PocketPlay is a new stand-alone game. Players hire a crew, and profit from their abilities to ultimately score victory points. The PocketPlay edition keeps the thrilling push your luck element and uses the familiar mechanisms of the award-winning, critically acclaimed original but slighty eases them for an access friendly, slick game experience ? ideal for travels or players new to the game.
Port Royal PocketPlay reduces the mechanisms of the popular original to its essentials and thus keeps the unique Port Royal feeling. It also introduces new characters which are compatible with the original. Whether as a travel edition, an expansion or a great card game for players on a budget ? the harbor of Port Royal is always worth a visit.
Porta Nigra Board Game
The largest Roman city north of the Alps in the late Roman Empire was Augusta Treverorum. Founded in the times of Caesar Augustus and built up by generations of Roman architects, this was the Emperor's residence and a world city during this period. The remains of these most impressive structures can still be visited today. Foremost of these great achievements in the city is the massive "Porta Nigra", a large Roman city gate located in Trier, Germany that dates to the 2nd century.
The game Porta Nigra (which translates as "black gate") is set in that place and time with the players taking on the roles of Roman architects working on the city gate of Porta Nigra. Each player commands a master builder, who moves around a circular track on the game board, enabling you to buy or build only where this master builder is located. Moving the master builder to farther locations along the track is expensive, so players must plan their movements and builds carefully. The number and type of actions that may be performed on your turn comes from cards in your personal draw deck.
Buildings are erected physically at the various locations around the city using 3D building pieces.
Railroad Revolution Board Game
Ambition and a thirst for wealth have driven humanity to strive for ever greater progress. In America, during the 19th century, battles were waged between huge railway corporations that sought to connect state to state and coast with coast? making themselves filthy rich in the process.
Railroad Revolution drops you straight into the middle of these tempestuous years; a time that changed America forever.
In Railroad Revolution, you will manage your own railroad company, ruthlessly competing to be the most powerful railroad tycoon across all America.
You will build railroads, establish stations in your connected cities, expand the network of telegraph lines, and chase your objectives, increasing the value of your company with every action you take.
You start with mainly a team of non-specialized workers, but during the game you can hire additional ones with specific skill sets. The cost or effect of an action is determined by the type of worker that does it.
To complete your company objectives, you will have to remove some of your workers from your active pool, promoting them to managerial positions.
You must carefully assign each of your workers to perform the right action at the right time in order to exploit their specializations in the best way. You need to decide which ones to promote and which are instead still needed to take actions, as your priorities will change from turn to turn.
Railroad Revolution is a fast paced game with relatively simple rules, and it provides you with interesting and challenging decisions. Having a good strategy and finding the correct timing to implement it, is the key to winning the game.
Santo Domingo Card Game
When up to six players with equal prospects compete for supremacy, a good strategy and anticipation of the opponents? plans are key. In Santo Domingo, each player has the same set of eight action cards. Each turn, they choose one or two cards to play (depending on the number of players) and reveal them at the same time. The card actions are carried out in a specific order ? one type of action at a time ? and allow players to collect wares, trade wares for victory points or even collect victory points directly. However, due to a limited supply of wares and points per turn, the power of a card depends on the cards the opponents played.
Sheep And Thief Board Game
Breed some sheep, and watch them prosper, but watch out for those shifty sheep thieves. This is a drafting type game. Players can play sheep cards to add sheep to the board, or play the sheepdog card to herd the sheep into their pens. Once they are in the pens they are safe. If a thief card is played the thieves will move, if the encounter a sheep they will steal the sheep.
The Dwarves Board Game
Take the roles of the five dwarves Tungdil, Balyndis, Bo?ndal, Bo?ndil and Bavragor, well-known characters by millions of readers of the German beststeller novel series The Dwarves by Markus Heitz. Save Girdlegard together! Complete quests, fight the evil forces, and influence the Dwarf Council. But most of all: Forge Keenfire and complete the last great quest?
The world of The Dwarves will come to life on your gaming table in this cooperative game due to its atmospheric illustrations and detailed plastic dwarf figures. There are several difficulty levels to choose from, from easy to heroic. Help these little brawlers to survive against Orcs, Trolls and ?lfar! You shouldn?t tempt dwarves for fun, but this game tempts you to have fun with them!
The Dwarves Board Game: The Saga Expansion Limited Edition
The Saga of The Dwarves continues!
The Saga Expansion delivers both a host of new scenarios for your adventure-hungry Dwarves, as well as plenty of new components! Elevate your Dwarves experiece to a whole new level! The Saga cards hold 3 new scenarios with all-new game play, that challenges every Dwarven fan-boy! Fight mighty dragons, find a magical diamond or fight back with fortifications and catapults!
Contents:
90 tiles
85 wooden figures + tokens
55 cards
4 miniatures
2 game boards
1 character board
1 wooden heart
instructions
The Dwarves Card Game: The Duel
In Girdlegard, the final battle between good and evil is dawning - and you are in the midst of it! Only if you can use the dice to your advantage by activating all the right cards, can you rule triumphant over your foes!
The Oracle Of Delphi Board Game
Zeus, Greek god of thunder and sky, hosts a competition for the most valorous mortal captains. So you ready your ships and sail the Aegaean to be the first to complete his twelve tasks: erect graceful statues, raise awe-inspiring shrines, make genereous offerings, and slay the most fearsome monsters. In order to finde the righteous path onward, you question Pythia, the mysterious Oracle of Delphi and let her divinations guide your ways.
With Oracle of Delphi, renowned designer Stefan Feld presents an atmospheric, yet highly challenging race that demands sophisticated strategy as well as short-term adaptability.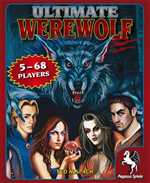 Ultimate Werewolf Card Game
Your quiet little 16th century village has suddenly become infested with some very unfriendly werewolves ... can you and the other villagers find them before they devour everyone?
Ultimate Werewolf is the ultimate party game for anywhere from 5 to 68 players of all ages. Each player has an agenda: as a villager, hunt down the werewolves; as a werewolf, convince the other villagers that you're innocent, while secretly dining on those same villagers each night. Dozens of special roles are available to help both the villagers and the werewolves achieve their goals while thwarting their opponents.
More than 40 unique roles, 18 diferent scenarios to allow groups of all sizes and experience levels to quickly get up and running, a set of 80 fully illustrated cards, a moderator scorepad to keep track of games, and a comprehensive game guide with pages and pages full of insights, tips and strategies. This set has everything you need for the best Ultimate Werewolf experience possible, whether you?re playing with a small circle of friends at home, a huge gathering of gamers o as an engaging team builfing exercise at the office.
Village Board Game: Inn Expansion
Village Inn, the first expansion for the award-winning game Village, adds two new buildings to the village: the brewery and the inn.
The brewery is a new craft building where you can acquire a new good: beer. In the inn you can meet a lot of influential people (in the form of cards), and you can acquire these villager cards by spending beer/coins and time. Each villager card has a unique ability that can be used once per game, giving either points and advantages during the game or additional points at the end of the game for certain achievements.
In addition, Village Inn includes all necessary components for a fifth player.
Village Board Game: Port Expansion
Now in Village you have the option of boarding you own ship and travelling the seven seas. Hire captains, sell domestic goods, and pick up foreign commodities. Send family members as missionaries to far away islands and dig up treasure chests.
In addition, this expansion includes life goal cards that let you pursue your very own career, such as becoming a writer, a historian or even a knight.
Yeti Dice Game
In Yeti players are competing adventurers and mountaineers, looking for traces of the Yeti, the legendary Snowman in the Himalaya. They want to find its footprints ? or even better take photos of it ? in order to collect points. To achieve this, they need to improve their equipment and acquire the help of Sherpas to lead them up the mountains. Most importantly, though, they should hope for good weather because if too much snow falls, the search of all players comes to a halt...
Yeti is a quick family dice game with extraordinary components and funny illustrations.
© Spiral Galaxy Games 2008 - 2017