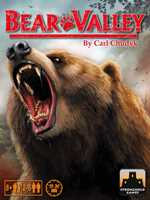 Bear Valley Card Games
In Bear Valley, you must be the first to survive the treacherous wilderness and escape to the safety of the camp at the end of the valley. Players start as 2-6 campers along the Bear River and must navigate the wilderness, avoiding bears and trying to not get lost. Dive into caves, row canoes, cross bridges, climb mountains, and cut through treacherous underbrush as you stop at nothing ? except bears ? to be the first to reach base camp. Can you survive and escape Bear Valley?
The map of trails and challenges is built by the players as they explore the wilderness. These wilderness cards feature beautifully illustrated realistic art and have between three and six exit points along with a variety of features, both man-made and natural in origin. No two games will ever play the same. Gameplay is structured around a clever movement mechanism in which the first player moves one card, the second player moves up to two cards, the third player three, and so on. Each of the six player characters has both advantages and disadvantages that can be used across a variety of play options ? short or long play, regular or advanced.
Contains
15 Valley cards
79 Wilderness cards
6 Player cards
6 custom Meeples
18 equipment tokens
8 Gold discs
1 Rule book
Core Worlds Card Game
The ancient Galactic Realm, ruled from the Core Worlds of the galaxy, is waning. Now, the barbaric kingdoms that lie beyond the galactic frontier are amassing their strength, choosing this pivotal moment to strike at the heart of the fading republic, establishing new empires built upon the ashes of decaying civilizations. But these outer systems are not yet strong enough to engage the forces of the Core Worlds directly. The young kingdoms must first gnaw at the edges of the crumbling frontier, developing new types of units and shrewder tactics. They must build up their energy resources to launch magnificent fleets and overwhelming ground forces. Then, when the time is right, they must strike at the galactic core itself, claiming the most exalted planets for themselves. The barbarian kingdom that achieves these goals will carve out the greatest empire in the galaxy? and rule the Core Worlds!
Each player controls a barbarian Star Empire represented by many cards. Throughout the game, players will invade Worlds and draft new Units and Tactics into their Empires. Each card lists its Empire Points in the upper right corner. The player whose Empire contains the most Empire Points at the end of the game is the winner!
Core Worlds Card Game: Galactic Orders Expansion
In Core Worlds: Galactic Orders ? the first expansion to Core Worlds, the deck-building card game of intergalactic conquest ? players begin to forge alliances with the six Galactic Orders, powerful organizations that have maintained their independence in the midst of a crumbling empire. These Orders consist of the Galactic Senate, the Science Guild, the Merchant Alliance, the Mining Coalition, the Order of Knighthood, and the Mystic Brotherhood. The Galactic Orders expansion focuses on these six independent organizations and their influence upon a galaxy at war.
Each Galactic Order is represented on the table by a large Galactic Order card that specifies the special power associated with that Order, and each player starts with 20 Faction Tokens that match the Faction symbols on their Starting Decks. Whenever a player deploys a Unit or plays a Tactic with a Galactic Order icon on it, he gets to place his Faction Token onto the corresponding Galactic Order card. Players must choose between leaving their Faction Tokens on the Galactic Order cards to score points at the end of the game, or removing their Faction Tokens in order to use the unique special powers associated with each Order.
Core Worlds Card Game: Revolution Expansion
Core Worlds: Revolution allows players to delve deeper into the story of the Core Worlds universe. Players will be able to build incredible Advancements on their conquered Worlds, including Cosmic Terraformers, Wormhole Generators, and Dark Energy Power Cores. Players will also be able to employ Heroic Tactics keyed to specific Heroes, such as Baron Viktor's "Sacrificial Lambs", the Promethean Cyborg's "Accelerated Procurement," and Queen Alais's "Warrior Queen." Each Hero will command 3 unique Heroic Tactics kept in a separate Heroic Deck beside the players' regular draw decks. The expansion also features 3 new Heroes (Captain Alexander, the Prophet, and Duke Magnus), each complete with his own set of Heroic Tactics.
Core Worlds: Revolution includes nearly 100 new cards that magnify the richness and excitement of the Core Worlds universe!
Crude: The Oil Game Board Game
In Crude: The Oil Game, players take on the role of oil company CEOs, seeking to expand their companies into multi-national energy mega-corporations. Just as with real world energy companies, players will set-up facilities for oil drilling, oil pumping, oil refining into gasoline, and gasoline selling to the consumer ? all of which are represented by actual plastic pieces placed on board!
Players can also speculate by buying and selling oil and gasoline barrels in both the domestic and foreign markets, once again represented by actual plastic barrels in their playing area. However, the changing economic climate, as well as sudden world news events, will challenge players to keep a long-term strategic view of the world energy markets. The first player to reach a corporation value of $750 million wins!
Crude: The Oil Game is not only a great simulation of the global oil markets, but with almost 300 plastic playing pieces, it is a sight to behold!
Jorvik Board Game
For several decades during the Viking age, parts of England were occupied by the Norsemen. Under their influence, one of the larger cities turned into a flourishing center of trade and craftsmanship. The Vikings called the city and its surrounding kingdom "J½rv­k", which is today known as the city of York.
In the game J½rv­k, players assume the roles of Viking jarls. They gather prestige points by trading goods, holding big feasts, funding pillages, commissioning craftsmen and hiring soldiers to defend the city against recurring invasions. The player with the most prestige points wins.
The game is a re-design of Die Speicherstadt (2010). In this game, players acquire cards from a card display through a simple yet brilliant worker placement and bidding mechanism to build up their trading empires. J½rv­k includes two versions: A base game that is equivalent to Die Speicherstadt, and an advanced game that equates to Die Speicherstadt including its expansion Kaispeicher.
Outpost Board Game
Outpost takes place on the most distant planet in the known Universe. Each player takes on the role of a Colony Commander as they manage resources and build colony upgrades to construct the greatest Outpost on this remote world.
As the Commander, your mission is to build and expand your colony to its fullest. You will purchase new factories, such as Titanium and Microbiotics, operating each of these with either Humans or Robots. You will also compete via bidding to acquire colony upgrades, such as Orbital Labs and Planetary Cruisers, making your colony more efficient and successful. Your success, as well as the success of all the other Commanders on the planet, will be judged based on how large and efficient your colony becomes. The Commander that builds the greatest colony gains the title of Outpost Director and wins!
Outpost is a reprint of the highly sought-after ?grail game? originally published in 1991. Stronghold Games? edition of this great game contains vastly upgraded components plus the never-before released ?Kicker Expansion? designed by noted designer, Tom Lehmann!
Outpost includes:
3 dice: one 4-sided, one 10-sided, and one 12-sided
149 cardboard People counters
154 cardboard Factory counters
9 cardboard Purchase Order counters
247 Production cards
78 Colony Upgrade cards
9 Player Reference cards
27 ?Kicker Expansion? Colony Upgrade cards ? designed by Tom Lehmann
Pictomania Card Game
Pictomania is a drawing game in which everyone is both drawing and guessing at the same time, giving a chance for those who excel only at one or the other skill to crush the dreams of other players.
Pictomania lasts five rounds, and at the start of each round, you set up six randomly drawn cards on card racks visible to all players. Cards are double-sided, come in four levels of difficulty, and include seven related words on a single side. In addition to a set of guessing cards, scoring tokens, marker and drawing board, each player receives one symbol card and one number card, which together indicate which word or phrase on the revealed cards that player must draw. Bonus tokens equal to one less than the number of players are placed in the center of the table.
Players simultaneously look at their cards and start to draw. While drawing, they can also watch what others are doing and place a guess card on that player's stack. Only one guess per player is allowed, and once you make a guess, you can't change your mind. Other players will ideally be playing guess cards on your stack, too. Once you have finished drawing and guessing ? and you're not required to do either ? take the highest-valued bonus token from the center of the table and take no other actions. Once the final bonus token is claimed, the round ends.
One by one, players reveal what they were drawing and the guesses that others made. Those who guess your word earn one of your scoring tokens, with early guessers earning more points, while those who guess incorrectly have their card placed in the center of the table. Once all the guesses are resolved, you determine the black sheep ? the player who made the worst guesses. If a single player has more cards in the center of the table then anyone else, then his bonus token (if any) counts as negative points. What's more, if no one guessed your word, then you throw away your bonus token, scoring nothing for it. You sum positive points for the round (a bonus token scored, and scoring tokens from the words you guessed correctly), then subtract points for the black sheep "bonus" and all the scoring tokens you didn't give away to determine your final score for the round, which could be negative.
Reset the bonus and scoring tokens, set up six new cards, hand out the symbol and number cards and start another round. The player with the highest score after five rounds wins.
Space Cadets Board Game: Resistance Is Mostly Futile Expansion
Space Cadets: Resistance Is Mostly Futile is the first expansion for the original Space Cadets game.
A variety of new missions, map obstacles, and enemies are included to challenge both novice and veteran crews. Even missions for just two players! Blast parasites, save a space station and stop the mighty Star Kraken, an enemy unlike any you have faced before.
Also Cadets, be sure to welcome your new crew mate, the Science Officer! Any difficulty can be bested with one of his helpful inventions... If only they weren't made of parts of the ship.
Survive lasers and tentacles and the well-meaning Science Officer tearing apart your ship and prove that you deserve the title of a true Space Cadet!
The Golden Ages Board Game
In The Golden Ages, you lead your civilizations through history. The game lasts four different eras, during which you develop technologies, create fine arts, erect buildings, and build wonders. You'll send explorers to discover the continents, found cities in distant lands, and send your soldiers into battles.
The first player starting a Golden Age during an era chooses a "History Judgement" card that states the way all the players will score in that round. Each player who started a Golden Age continues taking money at his turns until all other players have passed.
There are many ways to score points ? artists, the judgement of history, wonders, technologies, attacks, money, secret future technologies, etc. ? as well as many different ways to achieve a victory. Will you succeed in evolving your civilization through history, overwhelming your opponents on the way to glory? Will you take your civilization into... The Golden Ages!
© Spiral Galaxy Games 2008 - 2017