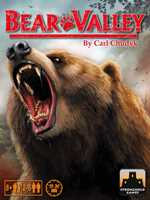 Bear Valley Card Games
In Bear Valley, you must be the first to survive the treacherous wilderness and escape to the safety of the camp at the end of the valley. Players start as 2-6 campers along the Bear River and must navigate the wilderness, avoiding bears and trying to not get lost. Dive into caves, row canoes, cross bridges, climb mountains, and cut through treacherous underbrush as you stop at nothing ? except bears ? to be the first to reach base camp. Can you survive and escape Bear Valley?
The map of trails and challenges is built by the players as they explore the wilderness. These wilderness cards feature beautifully illustrated realistic art and have between three and six exit points along with a variety of features, both man-made and natural in origin. No two games will ever play the same. Gameplay is structured around a clever movement mechanism in which the first player moves one card, the second player moves up to two cards, the third player three, and so on. Each of the six player characters has both advantages and disadvantages that can be used across a variety of play options ? short or long play, regular or advanced.
Contains
15 Valley cards
79 Wilderness cards
6 Player cards
6 custom Meeples
18 equipment tokens
8 Gold discs
1 Rule book
Core Worlds Card Game
The ancient Galactic Realm, ruled from the Core Worlds of the galaxy, is waning. Now, the barbaric kingdoms that lie beyond the galactic frontier are amassing their strength, choosing this pivotal moment to strike at the heart of the fading republic, establishing new empires built upon the ashes of decaying civilizations. But these outer systems are not yet strong enough to engage the forces of the Core Worlds directly. The young kingdoms must first gnaw at the edges of the crumbling frontier, developing new types of units and shrewder tactics. They must build up their energy resources to launch magnificent fleets and overwhelming ground forces. Then, when the time is right, they must strike at the galactic core itself, claiming the most exalted planets for themselves. The barbarian kingdom that achieves these goals will carve out the greatest empire in the galaxy? and rule the Core Worlds!
Each player controls a barbarian Star Empire represented by many cards. Throughout the game, players will invade Worlds and draft new Units and Tactics into their Empires. Each card lists its Empire Points in the upper right corner. The player whose Empire contains the most Empire Points at the end of the game is the winner!
Core Worlds Card Game: Galactic Orders Expansion
In Core Worlds: Galactic Orders ? the first expansion to Core Worlds, the deck-building card game of intergalactic conquest ? players begin to forge alliances with the six Galactic Orders, powerful organizations that have maintained their independence in the midst of a crumbling empire. These Orders consist of the Galactic Senate, the Science Guild, the Merchant Alliance, the Mining Coalition, the Order of Knighthood, and the Mystic Brotherhood. The Galactic Orders expansion focuses on these six independent organizations and their influence upon a galaxy at war.
Each Galactic Order is represented on the table by a large Galactic Order card that specifies the special power associated with that Order, and each player starts with 20 Faction Tokens that match the Faction symbols on their Starting Decks. Whenever a player deploys a Unit or plays a Tactic with a Galactic Order icon on it, he gets to place his Faction Token onto the corresponding Galactic Order card. Players must choose between leaving their Faction Tokens on the Galactic Order cards to score points at the end of the game, or removing their Faction Tokens in order to use the unique special powers associated with each Order.
Core Worlds Card Game: Revolution Expansion
Core Worlds: Revolution allows players to delve deeper into the story of the Core Worlds universe. Players will be able to build incredible Advancements on their conquered Worlds, including Cosmic Terraformers, Wormhole Generators, and Dark Energy Power Cores. Players will also be able to employ Heroic Tactics keyed to specific Heroes, such as Baron Viktor's "Sacrificial Lambs", the Promethean Cyborg's "Accelerated Procurement," and Queen Alais's "Warrior Queen." Each Hero will command 3 unique Heroic Tactics kept in a separate Heroic Deck beside the players' regular draw decks. The expansion also features 3 new Heroes (Captain Alexander, the Prophet, and Duke Magnus), each complete with his own set of Heroic Tactics.
Core Worlds: Revolution includes nearly 100 new cards that magnify the richness and excitement of the Core Worlds universe!
Crude: The Oil Game Board Game
In Crude: The Oil Game, players take on the role of oil company CEOs, seeking to expand their companies into multi-national energy mega-corporations. Just as with real world energy companies, players will set-up facilities for oil drilling, oil pumping, oil refining into gasoline, and gasoline selling to the consumer ? all of which are represented by actual plastic pieces placed on board!
Players can also speculate by buying and selling oil and gasoline barrels in both the domestic and foreign markets, once again represented by actual plastic barrels in their playing area. However, the changing economic climate, as well as sudden world news events, will challenge players to keep a long-term strategic view of the world energy markets. The first player to reach a corporation value of $750 million wins!
Crude: The Oil Game is not only a great simulation of the global oil markets, but with almost 300 plastic playing pieces, it is a sight to behold!
Fabled Fruit Card Game
Once upon a time there was a marvelous forest full of gorgeous fruits. These fruits could be squeezed and mixed into the most delicious juices...
You live in this forest and are in search of the most savory fruits. Friendly forest dwellers will help you in different ways...
You are greedy and thirsty. Who will be the first to satisfy their appetite for Fabled Fruit?
Fabled Fruit is a Fable game, a new and unique concept in game experiences, where the gameplay changes over time. The game starts in an initial, simple state, but as you explore deeper into the game system, the mechanisms and gameplay will evolve over time.
You play the game many times, and each play changes the game slightly. Unlike in a Legacy game, however, the game is never permanently changed. At any time you may easily restart a Fable game from the beginning, either after you have run through the entire game system, or at any time during the many plays you will get from this game system. This Fable Game will remain just as playable on the 20th play as it was on the first plays of the game.
Jorvik Board Game
For several decades during the Viking age, parts of England were occupied by the Norsemen. Under their influence, one of the larger cities turned into a flourishing center of trade and craftsmanship. The Vikings called the city and its surrounding kingdom "J½rv­k", which is today known as the city of York.
In the game J½rv­k, players assume the roles of Viking jarls. They gather prestige points by trading goods, holding big feasts, funding pillages, commissioning craftsmen and hiring soldiers to defend the city against recurring invasions. The player with the most prestige points wins.
The game is a re-design of Die Speicherstadt (2010). In this game, players acquire cards from a card display through a simple yet brilliant worker placement and bidding mechanism to build up their trading empires. J½rv­k includes two versions: A base game that is equivalent to Die Speicherstadt, and an advanced game that equates to Die Speicherstadt including its expansion Kaispeicher.
Space Cadets Board Game: Resistance Is Mostly Futile Expansion
Space Cadets: Resistance Is Mostly Futile is the first expansion for the original Space Cadets game.
A variety of new missions, map obstacles, and enemies are included to challenge both novice and veteran crews. Even missions for just two players! Blast parasites, save a space station and stop the mighty Star Kraken, an enemy unlike any you have faced before.
Also Cadets, be sure to welcome your new crew mate, the Science Officer! Any difficulty can be bested with one of his helpful inventions... If only they weren't made of parts of the ship.
Survive lasers and tentacles and the well-meaning Science Officer tearing apart your ship and prove that you deserve the title of a true Space Cadet!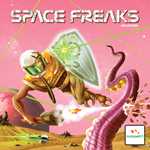 Space Freaks Board Game
Welcome to the hottest, most cruel show in the galaxy! It's Friday night battle in the Arena of Annihilation! Stay tuned to see what new tricks our arena master has in store for today's battle. Here comes the first team. Oh my, they seem to be even uglier than our usual competitors. Who thought it was a good idea to match chain tracks with a poison needle? That team will need a lot of help from their sponsor to have a chance. Look at their opponents, tentacles with anti-matter flail ? that's a classic. Seems like we are ready to start. It's time to freak out!
In Space Freaks, you are team manager of one of the fighting teams sponsored by powerful megacorporations. Your task is to combine different body parts to design the perfect freak, then lead your team of freaks to victory. The arena is controlled by the arena master, who each turn changes the conditions in the arena. To succeed, you need to complete tasks given to you by the viewers ? or just destroy the other freaks and their base. But don't worry because in Space Freaks everyone wins, either by managing the winning team or by becoming a (body)part of the next winning team!
Contains:
1 Double-sided Game Board
24 plastic Space Freaks figures
24 plastic bases for the Space Freaks figures
4 Player Boards
110 Freak Cards
35 Arena Master Cards
70 Mission Cards
60 Sponsor Cards
50 Hexagonal Tokens
17 Wooden cubes
5 Wooden Discs
1 Score Track
1 Rules book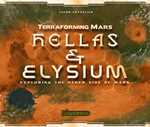 Terraforming Mars Board Game: Hellas And Elysium Board Expansions
Terraforming Mars: Hellas & Elysium, the first expansion for Terraforming Mars, consists of a double-sided game board presenting two new areas of Mars: -Elysium takes players almost to the opposite side of Mars' equator, with vast lowlands for oceans in the north and a dry, mineral-rich south. Place a tile on Olympus Mons, the highest peak in the solar system, to gain three free cards! -Hellas, the southern wild, includes Mars' south pole and the enormous seven-hex Hellas crater that just begs to become a giant lake. Building around the pole gives you new placement bonuses in the form of heat and possibly even water.
Each of these maps consists of new sets of milestones and awards with relevance for that particular map. Place three tiles around the south pole to be a Polar Explorer, for example, or race to have the most estates beside water on Elysium!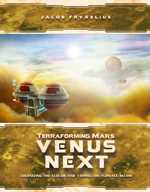 Terraforming Mars Board Game: Venus Next Expansion
In Terraforming Mars: Venus Next, the World Government chooses to also fund the terraforming of Venus. Around 50 project cards and 5 corporations are added, with a special focus on how to make Venus habitable. With the new floater resource, a new milestone, a new award, a new tag, and a new terraforming parameter, players are given more paths to victory and even more varied play.
Contents:
49 Project Cards
5 Corporation Cards
Venus Game Board
Venus Scale Marker
1 Milestone Tile
1 Award Tile
1 Rules Sheet
The Golden Ages Board Game
In The Golden Ages, you lead your civilizations through history. The game lasts four different eras, during which you develop technologies, create fine arts, erect buildings, and build wonders. You'll send explorers to discover the continents, found cities in distant lands, and send your soldiers into battles.
The first player starting a Golden Age during an era chooses a "History Judgement" card that states the way all the players will score in that round. Each player who started a Golden Age continues taking money at his turns until all other players have passed.
There are many ways to score points ? artists, the judgement of history, wonders, technologies, attacks, money, secret future technologies, etc. ? as well as many different ways to achieve a victory. Will you succeed in evolving your civilization through history, overwhelming your opponents on the way to glory? Will you take your civilization into... The Golden Ages!
© Spiral Galaxy Games 2008 - 2017