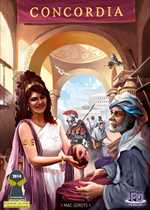 Concordia Board Game
Two thousand years ago, the Roman Empire ruled the lands around the Mediterranean Sea. With peace at the borders, harmony inside the provinces, uniform law, and a common currency, the economy thrived and gave rise to mighty Roman dynasties as they expanded throughout the numerous cities. Guide one of these dynasties and send colonists to the remote realms of the Empire; develop your trade network; and appease the ancient gods for their favor ? all to gain the chance to emerge victorious!
Concordia is a peaceful strategy game of economic development in Roman times for 2-5 players aged 13 and up. Instead of looking to the luck of dice or cards, players must rely on their strategic abilities. Be sure to watch your rivals to determine which goals they are pursuing and where you can outpace them! In the game, colonists are sent out from Rome to settle down in cities which produce bricks, food, tools, wine, and cloth. Each player starts with an identical set of playing cards and acquires more cards during the game. These cards serve two purposes:
They allow a player to choose actions during the game.
They are worth victory points (VPs) at the end of the game.

Concordia is a strategy game which requires advance planning and consideration of your opponent's moves. Every game is different, not only because of the sequence of new cards on sale but also due to the modular layout of cities. (One side of the game board shows the entire Roman Empire with 30 cities for 3-5 players, while the other shows Roman Italy with 25 cities for 2-4 players.) When all cards have been sold, the game ends. The player with the most VPs from the gods (Jupiter, Saturnus, Mercurius, Minerva, Vulcanus, etc.) wins the game.

Components
190 Wooden Pieces
75 houses
15 sea colonists
15 land colonists
5 scoring markers
80 individually shaped units of goods
Cardboard Pieces
5 storehouses
30 city tokens
24 bonus markers
coins (as 1, 2, 5, 10 Sestertii)
72 Cards
65 personality cards
5 player aids
1 Concordia
1 Praefectus Magnus
game board: Imperium (3 - 5 players) / Italia (2 - 4 players)
game rules
quick intro
historical information booklet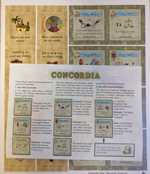 Concordia Board Game and Navegador Board Game Mini Expansion
This pack includes a mini expansion for Concordia, a mini expansion for Navegador and the rules for playing with both:
The Concordia expansion includes 8 new forum cards, first introduced in the Salsa Expansion, that can be played and combined with any variant of Concordia.
The Navegador expansion includes 7 Privilege cards that can be claimed using the priviledge action on the Rondel. The card provides a one use ability that can be played in addition to the rondel action.
Concordia Board Game: Britannia And Germania Map Expansion
Concordia: Britannia Expansion features a double-sided map for Concordia:
The Britannia map offers tight play with only 23 cities in ten provinces. Players start in London and Calais, expanding into Britannia from the south.
The Germania map features 30 cities in twelve provinces again. The additional castles, different starting positions, and sea colonists moving along rivers bring new options into play.
Concordia Board Game: Gallia And Corsica Map Expansion
Concordia: Gallia / Corsica is an expansion for Concordia that contains two maps for new strategic challenges:
In Gallia, you start moving around with only one land colonist and have to settle inside one of the harbor cities before you can use your sea colonist as well.
In Corsica, you will play on the tightest map ever published for Concordia, containing only twenty cities in eight provinces.

Both maps can be played at all player counts, but Corsica is especially meant for two or three players.
Transatlantic Board Game
In Transatlantic, 2 to 4 players lead their own shipping companies, which transport freight, mail, and passengers around the globe. They purchase new steamships from the market, each of them historical with their individual technical data (tons, knots etc.). Competition is tough, especially in the North Atlantic where winning the "Blue Riband" is not only a matter of prestige, but may also be a profitable investment. In order to let a shipping company flourish, purchasing the best steamships is not enough, if one fails to acquire enough coal bunkers and trade posts as well.
The game is driven by cards; on each turn, play one card and execute the related action. As new cards enter the game, build your individual deck of cards with new or improved possibilities. The task is to manage your merchant fleet most efficiently. It's a maritime strategy game with low luck, lots of interactive choices, and tough decisions.
© Spiral Galaxy Games 2008 - 2017