51st State Card Game: Master Set
The world you know no longer exists. There is no government. No army. No civilization. The United States has collapsed, and now thirty years after the war started, new powers finally try to take control over the ruined country, try to establish a new order, try to control others and create a new country, a new state: the 51st State.
51st State is a card game in which players control one of four powers trying to build a new country. Players put new locations into play, hire leaders, and send people to work in buildings to gain resources and new skills.
51st State: Master Set marks the rebirth of the 51st State line, with this set containing 88 cards from the original base game, and 50 cards each from both the New Era and Winter expansions; one of these expansions can be mixed with the cards of the base game, but not both at the same time. The entire set has been rebalanced to offer a cohesive experience no matter which expansion you choose to use.
51st State Card Game: Scavengers Expansion
In 51st State: Scavengers, nothing is lost forever ? meaning that you can now search the discard for valuable locations and leverage them for use in your State.
51st State: Scavengers, the first expansion for 51st State: Master Set, is based on the previous 51st State expansion Ruins. This set of fifty cards brings back some favorite cards from the original expansion while introducing new locations to the game as well as a new mechanism.
Like the 2 expansions included in the 51st State Master set, it is recommended to only combine 1 expansion with the core cards from the Master Set.
Alien Artifacts Card Game
Alien Artifacts is a 4X-style card game in which you play as an interplanetary faction, sending your research vessels into uncharted space to expand your knowledge and power. Build powerful ships, develop new technologies, and explore distant planets for anything ? or anyone ? you can exploit.
Alien Artifacts is built on a Resource engine - each turn you will have 3 Resource cards in your hand and you will decide how best to spend them. Each resource card has two different resource types for you to use. You can only use one side and only two cards per turn! Using these resources, you will build Ships, develop Technology, discover Planets, or Trade for currency:
New Ships allow you to attack the aliens and gain their valuable artifacts which provide huge bonuses.
With each new Technology card in your Empire, you will have access to more actions, bonuses, and scoring opportunities.
Each Planet you explore provides valuable resources for future actions.

There are two sides to each of these cards, and as you build them you will decide:
Logistics - play cards on this side to gain ongoing bonuses that will make your Empire stronger and help you build faster.
Operational - play this side to gain a new way to score victory points (and yes, you will be able to activate your operations more than once, if you play well).

Manage your Resources, build the right cards, make wise choices. Win!

Alien Artifacts provides a card based 4X experience in under an hour. With over two hundred cards, Alien Artifacts offers players many scoring strategies and great replay-ability.
Alien Artifacts Card Game: Discovery (Pre-Order)
Alien Artifacts: Discovery is the first expansion to Alien Artifacts. The expansion moves forward the storyline of the universe - humanity by accident discovers a mysterious resource hidden under the thick crest of one of the planets. The race for wealth and new possibilities begins!
The expansion introduces a new Alien Resource card and combines with a new type of planet and ship it allows players to harvest more resources from planets and gain new unique abilities. In total, the Discovery expansion adds 50 new cards to the Alien Artifacts base game, including new planets, technologies, ships, Alien Artifacts and Alien Resources.
Crazy Karts Board Game
Crazy Karts is a team-based, fast-paced racing game for 3-8 players who compete in teams of two. Each player controls specific actions of their kart, but they cannot communicate with their teammate!
One player controls the brakes and turns, while the other player speeds up and fires the cannon. Teams must outmaneuver their opponents, dodge obstacles, grab power-ups, and avoid smashing into the walls, all planning their actions in secret without talking! Need to turn left? Better hope your partner didn't accelerate! Race to the finish line in this wacky game of mayhem and shenanigans. Do you have what it takes to be a champion kart racer?
Crazy Karts includes four unique factions for the teams, each with their unique power. If you are play with an odd number of players, a Lone Wolf faction allows a single player to compete with a unique set of skills and disadvantages.
Cry Havoc Board Game
Cry Havoc is a card-driven, asymmetric, area control war game set in a brutal, science fiction setting. Each player commands one of four unique factions with varying abilities and units. The game includes 54 custom miniatures, a large format board, and over one hundred unique cards, all with stunning new artwork.
Cry Havoc Board Game: Aftermath Expansion
Aftermath expands Cry Havoc with new skills and structures to add even more re-playability to the game. Each faction receives five new skills and three new structures, which nearly doubles the amount of unique abilities in the game.
Additionally, this expansion introduces an alternate game mode that ensures each game lasts for five full rounds. When passing an event token, instead of removing it, new scoring abilities are introduced that allow players even more options to gain victory points.
First Martians Board Game: Adventures On The Red Planet
3?2?1? Liftoff! Set your foot on Mars, where fantastic adventures await you.
First Martians: Adventures on the Red Planet tells a magnificent history of humans struggling to survive on a hostile frontier. A series of missions form two separate campaigns. Take meaningful decisions and face their consequences! Experience thrills and awe as the plot unfolds! Additionally, the box features 6 standalone missions. Choose your preferred difficulty level and mode of play: who do you want to be today? A scientist, an explorer, or an engineer? Built on the core of the award-winning Robinson Crusoe: Adventures on the Cursed Island, First Martians: Adventures on the Red Planet pits players against the hostile Martian environment and a whole host of new adventures and challenges. The immersion experience is further enhanced with an integrated app that maintains the balance and challenge throughout.
The game provides massive amounts of replayability, while at the same time the story will always reflect your decisions.
Imperial Settlers Card Game
Settlers from four major powers of the world have discovered new lands, with new resources and opportunities.
Romans, Barbarians, Egyptians and Japanese all at once move there to expand the boundaries of their empires. They build new buildings to strengthen their economy, they found mines and fields to gather resources, and they build barracks and training grounds to train soldiers. Soon after they discover that this land is far too small for everybody, then the war begins...
Imperial Settlers is a card game that lets players lead one of the four factions and build empires by placing buildings, then sending workers to those buildings to acquire new resources and abilities. The game is played over five rounds during which players take various actions in order to explore new lands, build buildings, trade resources, conquer enemies, and thus score victory points.
The core mechanism of Imperial Settlers is based on concepts from the author's card game 51st State.
Imperial Settlers Card Game: 3 Is A Magic Number Empire Pack
Imperial Settlers: 3 Is a Magic Number, the second Empire Pack for Imperial Settlers, introduces a new rule: SET. This new ability allows players to score and trigger new effects each time they build three cards in a particular colour. With this rule, the drafting phase and the choice of the "right" card to draft becomes even more interesting.
This expansion includes new cards for the common deck as well as new cards for each of the five factions and two cards for use in the solitaire game.
Imperial Settlers Card Game: Atlanteans Expansion
Imperial Settlers: Atlanteans, an expansion that requires the base game to play, adds the option for playing Imperial Settlers with up to five players. The expansion includes a new faction board, the Atlanteans faction deck, technology tokens, and expansion cards for the original factions that complement the Atlanteans abilities.
The Atlanteans bring a new resource to the world of Imperial Settlers with technology that can unlock special abilities on faction cards and transform common buildings into powerful allies. The Atlanteans must use their abilities to find unique ways to score because their faction buildings sink at the end of the game and do not score points! While the other factions do not have the knowledge to use the technology of the Atlanteans, some buildings for each faction allow them to use some of that technology to their advantage.
Imperial Settlers Card Game: Aztecs Expansion
Imperial Settlers: Aztecs bring new rules, a new resource, and a sixth faction to the world of Imperial Settlers!
Prayer actions and blessing tokens bring religion to the world, while the Aztecs build temples and organize festivals and ceremonies to gain favors and be blessed! With this expansion, all other factions will also be able to add religion and their own pantheon of gods to their Empires.
This expansion includes a new faction board, the Aztecs faction deck, blessing tokens, and expansion cards for the original factions that complement the Aztecs abilities.
Imperial Settlers Card Game: Why Can't We Be Friends Empire Pack
Imperial Settlers: Why Can't We Be Friends is the first Empire Pack for Imperial Settlers and includes new common cards for the central deck, new cards for each of the base game's four factions, and two new cards for use in the solo game with some factions.
A new mechanic has been introduced:"open production". This ability allows an opponent to visit your building for the resource produced there while giving you the worker who made that trek. Hope you can put him to use once again!
Neuroshima Hex 3.0 Board Game
Neuroshima HEX is a game of tactics, where armies wage continuous battles against each other. The post-apocalypse world of Neuroshima is a world torn apart by a war between humans and machines.
The remains of humanity took shelter in the ruins of cities and organized in small communities, gangs and armies. Conflicts between such groups are not uncommon and the reasons of such are numerous: territory, food or equipment. What is more, the ruined cities are constantly patrolled by machines sent from the north where a vast cybernetic entity called MOLOCH appeared. Great wastelands that surround what was left of the greatest cities are home to another enemy ? Borgo ? a charismatic leader who controls an army of gruesome mutants. One of the last hopes of humanity is the OUTPOST, a highly organized army which wages a guerilla war against MOLOCH. Nevertheless, most human settlements, including the HEGEMONY, are not concerned with war until it comes banging at their door. Such is the world of Neuroshima.
Neuroshima Hex! 3.0 includes rule corrections, a solo variant with 55 puzzle cards that present you with challenging situations and new three-player variants.
Contents:
1 Game board
35 The Outpost Army tiles
35 Moloch Army tiles
35 Hegemony Army tiles
35 Borgo Army tiles
8 HQ Damage tokens
24 wound tokens
4 counters
4 army Reference Charts
55 cards with Hex Puzzles
1 rulebook
8 net tokens
Neuroshima Hex 3.0 Board Game: Dancer Expansion
The Moloch attack on Omega had unforeseen consequences: damage to the facility unleashed three strange creatures. They are the product of a secret genetic research project, codenamed "Dancer". Now, half-mad and with no control over their instincts, these creatures fight for survival in the post-apocalyptic wasteland!
This is not a stand-alone game. A copy of Neuroshima Hex 3.0 is required to play.
Neuroshima Hex 3.0 Board Game: Death Breath Expansion
The Death Breath is a terrifying virus which began spreading forth from the eastern enclaves of the Moloch. It infects every living thing, changing them into brainless, bloodthirsty beasts. Victims of these attacks become infected with the virus, and so it spreads. So far, the most effective way of dealing with the infected are strong ammunition, grenades, and a sharp ax.
Neuroshima Hex! Death Breath is a new army for Neuroshima Hex! that gives players a new experienceas the units are upgradeable with a special token pool that gives units customizable options. Death Breath also offers a large number of netting units as well as battle tiles.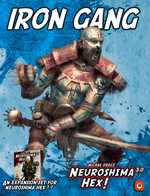 Neuroshima Hex 3.0 Board Game: Iron Gang Expansion
Engines roar through the night sky as you see clouds of dust coming your way. Hot tires screech across the road as hundreds of riders wreck havoc to anything on their path. They are followed by heavily armoured warriors, intimidating everyone with a cacophony of metallic sounds made by their chains, net launchers, and other weapons of post apocalyptic war.
First, the riders are going to surround and entangle you with their web of steel. Melee fighters will follow soon after, bringing pain and destruction. Even if you are going to defend yourself, even if you manage defeat one of them, more replace their fallen comrade.
Death is coming your way. You can try to run. You can try to hide. But sooner or later, you are going to fall into their hands. This is not your average gang ? this is Iron Gang, a brutal group that has perfected the art of the hunt from the back of the steel steed.
Neuroshima Hex: Iron Gang introduces a new army pack to Neuroshima Hex!, and both the HQ and certain units feature a new "chain" ability. Chain connects two units with that ability if there is a straight line between them, and it allows them to target and hit any unit on that line.
Neuroshima Hex 3.0 Board Game: Mephisto Expansion
Anomalies originating from radioactive bomb craters generate such monstrosities that pre-war scientists would never imagine! Mephisto is a monstrous worm, a unique synthesis of flesh and steel, which can be a serious threat to even well-armed forces. Contaminated crater - Mephisto's territory - is a tempting shortcut route and a source of resources, but, too often, it becomes a graveyard for newcomers!
This is not a stand-alone game. A copy of Neuroshima Hex 3.0 is required to play.
Neuroshima Hex 3.0 Board Game: Mississippi Expansion
In 2050 Mississippi is a toxic sewage draining directly from the interior of Moloch.
The river and its vicinity hidden in poisonous fumes are known as the Belt of Death or seedbed of mutants.
Warriors of the Mississippi, clad in coats and gas masks, diffuse the worst of the diseases and poisons.
The main advantage of the army is the ability to massively poison the enemy HQ with Venom as well as to thwart the enemy plans. The other advantages are noticeable resistance to attacks and ability to bypass the enemy's defense. The army's disadvantages are low number of Warriors, low mobility, low toughness, as well as a complete lack of armor.
Neuroshima Hex 3.0 Board Game: New York Expansion
New York didn?t collapse. Destroyed by atomic bombs, transformed into a fortress among the ruins, it still fights in the defense of the ideals of Free America. So far it has become a capital of the small state of the same name and has start a crusade to restore the human world. At the same time it has usurped the role of guiding the nation, and removed their opponents wherever they can. Again and again the new troops set off on expeditions to the wilderness in search of new resources and prewar technologies, recruiting useful people along the way. The city itself has become a fortified police state, one of the few safe places in the ruined world, where you pay for peace with your obedience.
Neuroshima Hex 3.0 Board Game: Smart Expansion
Smart is a part of Moloch, which has reached the southern part of the continent, where after fights with humans it was cut off from its origin and found sanctuary deep inside the Neojungle. It resembles Moloch less and less with every passing day. Smart has completely disregarded the directives that have so far been followed by Moloch's electronic brains and started producing strange half-machines combined with living organisms, including regeneration capable biodroids, micro robots functioning as parasites equipped with technologically advanced electromagnetic weaponry. Most Smart bases are hidden deep underground and whatever happens there stays behind a veil of mystery, hidden from both humans and Moloch.
Neuroshima Hex! Smart is a single army pack for use with Neuroshima Hex! and was originally included as one of the two armies in the standalone expansion Neuroshima Hex! Duel.
Neuroshima Hex 3.0 Board Game: Steel Police Expansion
The Steel Police is a wandering brigade of law and order fanatics, clad in pre-war, experimental power armor. Chemicals applied by the armor and cybernetic enhancements increase the organism?s abilities at the expense of the psyche ? Steel Police officers will automatically respond to anything the program identifies as threat or crime. They appear out of nowhere and pacify the area amid the roar of explosions and gunfire.
Unblemished lawfulness worthy of the automatic machine quickly makes the people of redeemed lands yearn for the old chaos and anarchy.
The Steel Police army pack introduces a new ability in a Neuroshima Hex line, Reflection, which protects the army unit from all attacks directed at its side marked with Reflection icon. Such attack is reflected in the opposite direction for a distance of one field and hits an enemy tile (Unit, HQ or Module) if it stands on an adjacent field on the line of attack. Reflected attack doesn't harm Steel Police tiles.
Neuroshima Hex 3.0 Board Game: Uranopolis Expansion
Pre-war uranium mines with hidden underground equipment and mining crews managed to survive the apocalypse and are still extracting valuable uranium. Over the following decades, many of the heavy mining machinery was transformed into deadly weapons and sent to defend the underground fortress. And so a new town was founded. Uranopolis ? a rich mining town, effectively guarding their treasure from being plundered by grabby neighbors.
Contents:
35 Uranopolis army tiles
2 Uranopolis HQ markers
12 No Power markers
4 Net markers
1 replacement tile
Rulebook
Neuroshima Hex 3.0 Board Game: Vegas Expansion
Vegas felt the effects of the war to a lesser extent than the majority of US cities and is one of a few surviving civilization centers, where you can live a higher life standard than in most parts of the ruined continent. Vegas has also become villains' Mecca, a place where they caught the scent of money making possibilities. Everyone knows today that in Vegas you can get everything you wish for, provided you can pay the right price. Vegas' strength does not lie in a strong army, or heavy weaponry, but in the wealth, machine programming and human manipulation skills.
Neuroshima Hex! Vegas' special feature is the ability to control the enemy of man and machine by means of special units - agitators. They can bribe any adjacent enemy unit to make it attack another unit. If your units attack Vegas HQ, you can not be sure when they will stop attacking Vegas and turn to attack you!
Neuroshima Hex! Vegas was originally released as part of the standalone expansion Neuroshima Hex! Duel, but in this reprint it's a single army pack that expands base game.
Rattle Battle Grab The Loot Dice Game
Take to the high seas as the captain of your very own pirate ship. Seek out valuable merchant ships and raid them for their goods! Hire new crew, upgrade your ship, and give your treasure to the Pirate King for fame and glory!
Rattle, Battle, Grab the Loot takes the fun of rolling dice and combines it with a rich scenario deck to make each game play differently. Each round, the players battle it out with merchant vessels and other ships, trying to grab as much loot as possible. One player takes dice from all the players, rattles them in their hand, then tosses them into the game box to resolve the battle. Where your dice land in the box, in addition to the symbols rolled, determines the results of the battle, then players claim their loot. Players may now return to port to upgrade their ship, hire new crew, or give their goods to the Pirate King for his favor.
When upgrading their ship, players use physical pieces to assemble their vessel, making each ship look different. In the box are dozens of punchboard pieces to customize your ship. In addition to common items and crew members, there will be unique item upgrades and crew that can make your ship stand out among the crowd!
At the end of the game, the player who earned the most favor from the Pirate King wins!
Tides Of Madness Card Game
Tides of Madness is a sequel to Tides of Time and features similar gameplay. Each game consists of three rounds in which players draft cards from their hands to build their kingdom. Each card is one of five suits and also has a scoring objective.
After all cards have been drafted for the round, players total their points based on the suits of cards they collected and the scoring objectives on each card, then they record their score. Each round, the players each select one card to leave in their kingdom as a "relic of the past" to help them in later rounds. After three rounds, the player with the the most prosperous kingdom wins.
Tides of Madness adds a new twist to the above game: madness. Some cards, while powerful, harm your psyche, so you must keep an eye on your madness level or else risk losing the game early as your mind is lost to the power of the ancients. Whoever has the most madness in a round either scores 4 points or discards 1 madness token ? and the latter option is valuable because if you ever have nine or more madness, you lose the game immediately.
Tides Of Time Card Game
Play as an ancient civilization as they prosper and collapse through time. Build gigantic monuments, raise impenetrable fortifications, and amass vast knowledge as the ages pass. The greatest civilizations will leave their mark long after their collapse. From times long forgotten to times recently lost, civilizations will rise and fall as the tide of time carries them.
Tides of Time is a drafting game for two players. Each game consists of three rounds in which players draft cards from their hands to build their kingdom. Each card is one of five suits and also has a scoring objective. After all cards have been drafted for the round, players total their points based on the suits of cards they collected and the scoring objectives on each card, then they record their score. Each round, the players each select one card to leave in their kingdom as a "relic of the past" to help them in later rounds. After three rounds, the player with the the most prosperous kingdom wins.
© Spiral Galaxy Games 2008 - 2017