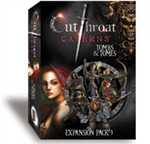 Cutthroat Caverns Card Game Exp 3: Tombs and Tomes
TOMBS & TOMES follows in the footsteps of Relics & Ruins adding to the pool of EVENT CARDS and RELICS and delivering what may be the most deadly 15 new Encounters yet.
And to introduce all the fun new creatures, Relics and Events to players - our latest innovation. Two full blown, RPG-style ADVENTURE MODULES that add richness and depth to gameplay with a full story arc, added winning and losing conditions, a decision tree at every turn and a host of new activities between the Encounters. All one-shots, but they are a blast to play.