Cutthroat Caverns Card Game
An artifact of untold power lies in your hands. To claim it, you must escape the caverns alive. No less than nine horrific beasts stand in your way ? that, and the greed of the other players.
In this game of kill-stealing, you decide whether to swing for a whopping 50 points of damage ? or hold back, awaiting a more opportune time to strike. Only the final blow matters if you are to score the kill. Hold back or sabotage other?s plans too much ? and the entire party will die, without a winner.
Okay, that's what it says on the box... what's it really like?
Cutthroat Caverns is truly unique. While most definitely a highly interactive card game and very easy to play, it requires the strategic thinking of a board game. And, for some uncanny reason, the game will make you FEEL like you are in the middle of a classic dungeon crawl, even though table talk is about as much roleplaying as you are likely to do. That all said, it has proven to have a very broad appeal with gamers across several genres.
The real joy is the delicate balance between helping the party (and staying alive) vs working towards your own selfish goals (and risking the welfare of everyone). There are no dice. Each Turn, you will choose how much damage you are willing to do to the monster- or won't do - as you jockey for position to land the killing blow. And when characters can make that kind of decision, things get very funny & very deadly - very quickly.
With 25 encounters, all requiring a different group strategy and seperate individual strategy, game play is always challenging. Only 9 random encounters will be used in any game, so the experience is always different. Plus, the first expansion is already complete with 15 new, tougher encounters and a whole new 'character enhancing' game mechanic to keep people coming back.
Cutthroat Caverns Card Game Exp 1: Deeper and Darker
You?d thought you?d seen the worst of it - until the entire party plummeted to the lower lairs; a series of caverns that are deeper, darker and more dangerous than any you?ve yet known. But it?s the danger from within that you must concern yourself with now. To see daylight again, you will need to use every skill and ability at your disposal. Remember...
Without teamwork, you will never survive. Without betrayal, you?ll never win. Welcome Back to Cutthroat Caverns.
Okay, that's what it says on the box... what's it really like?
Deeper & Darker is the first expansion to Cutthroat Caverns and further extends replay value with 15 new Encounters. Like in the core set, these Encounters all have a very different feel and require new strategies to overcome - both as a group and as an individual. As is implied by the title, these new critters are more challenging than ever and will put your party to the test. You may find yourself playing backwards in time against PARADOX, be tempted one too many times by ASHTONGUE THE CRUEL, or find that seven heads are not better than one with the HYDRA.
Plus, we've anticipated the desire to make the characters in the game more dimensional. So we've built a whole new 'character enhancing' game mechanic, one-use special abilities that are unique to each character and suited to their race or class specialties. With special abilities like Blackclaw's Fury, Ranged Salvo and Fleece you may find the tools you need to give you the edge.
THIS IS NOT A COMPLETE GAME. YOU WILL NEED A COPY OF THE CORE GAME TO PLAY!
Cutthroat Caverns Card Game Exp 2: Relics and Ruins
Relics & Ruin is a larger expansion which introduces a number of new mechanics to the game. The new EVENT DECK has the ability to turn familiar Encounters into whole new challenges. In addition, it provides richer rewards. Some Event Cards indicate a Treasure has been found - but unlike the Items in the base game, these treasures must be earned - and have a unique set of conditions for each card. Those treasures are the next innovation - powerful RELICS which give the characters game changing abilities, many continuously active throughout the game. Then, there are the 15 new Encounters - and they are decidedly more deadly than ever.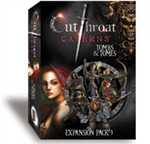 Cutthroat Caverns Card Game Exp 3: Tombs and Tomes
TOMBS & TOMES follows in the footsteps of Relics & Ruins adding to the pool of EVENT CARDS and RELICS and delivering what may be the most deadly 15 new Encounters yet.
And to introduce all the fun new creatures, Relics and Events to players - our latest innovation. Two full blown, RPG-style ADVENTURE MODULES that add richness and depth to gameplay with a full story arc, added winning and losing conditions, a decision tree at every turn and a host of new activities between the Encounters. All one-shots, but they are a blast to play.
Cutthroat Caverns Card Game Exp 4: Fresh Meat
The very words drip with blood. As you delve ever deeper into the caverns, more horrors will you find clawing their way to the surface, more tempting treasures to corrupt the hearts of men and more foolish adventurers only too eager to discover. Without teamwork, you will never survive. Without betrayal, you?ll never win.
Truly an expansion ?of the fans, for the fans,? with everything people have asked for in the game?s long & successful history! New, unique characters and a drafting mechanic to customize your own. New cards for every deck in the game ? including the main deck. And almost twice as many new creatures than any other expansion. PLUS - The Battle Box, big enough to store your the base set and every expansion to date, with a little room to grow. This is a must have expansion!
© Spiral Galaxy Games 2008 - 2017