Spiral Galaxy Games Home Page
Spiral Galaxy Games publishes and distributes Board and Card Games, primarily to the UK but also to Europe and to the rest of the World.
If your local games store does not stock the games we sell please let them know about us. Thanks.
Now In Stock
The last batch of games we received included:
The Star Trek: Ascendancy Play Mat takes all the guess work out of your galaxy building. This beautiful 3' x 3' game surface depicts the spiral arms of the galaxy which encompasses both the Alpha and Beta Quadrants, home to the game's great civilizations.
While providing an obvious border for your game map, the mat also indicates where you should place your Home System in both a three- and a four-player game.
The Star Trek Ascendancy Reinforcement Packs expand your game by allowing players to settle more strange new worlds and seek out more new life and new civilisations. Each pack contains extra ships and control nodes miniatures allowing players to control more systems and field more ships. With the Ferengi and Cardassian Expansions increasing the size of the galaxy by adding new star systems to the game, these packs will be vital to your efforts to control the Alpha Quadrant!
There are 3 reinforcement packs currently available; one each for the Federation, Klingon and Romulan races included in the base game.
In Cottage Garden, you compete in the art of gardening and are working two beds with a variety of flowers. Whenever no unplanted box is visible on a bed, you have completed it, then you count your points and replace it with a fresh, unplanted bed. You gain points for all of the visible plant pots and planting bells.
In more detail, players select various polyomino tiles of flower beds from a central market grid, depending on the location of the "gardener", then place them on one of their two personal garden boards. Each board has several garden elements that are worth points when not planted over, and these are scored on two different tracks as soon as a garden has been finished. Crossing over a line on each track awards bonus tokens that can fill in empty spaces or give you a better selection of the flower bed tiles. Whenever a garden is finished, you receive a new one to complete. After the gardener completes her fifth lap around the market, the game enters its last round. The player with the most points from their completed gardens at the end of the game wins.
Our Games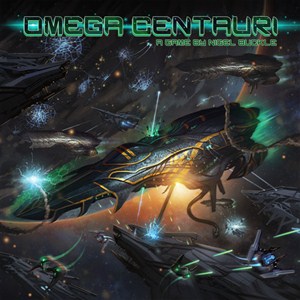 Omega Centauri is a game of galactic conquest by Nigel Buckle released at Essen Spiel 2014
After 2000 years of relentless oppression the Empire's iron grip on Omega Centauri is weakening. Now rebellion is spreading like wildfire as enslaved races try to reclaim what was theirs. Each player will control a unique race as they try to develop their technologies and culture, while also maintaining enough fleets to conquer the resource sectors fueling this development.
Players must compete against each other for the propserous systems that provide extra victory points, the dwindling resources and the technologies that will give them the edge over their opponents. Meanwhile The Empire, diminished but not defeated, will not sit idly by while you usurp it's rule; every round new fleets, technologies and defenses will be deployed to their systems to prevent the rebellions spreading.
Explore, Expand, Exploit and Exterminate!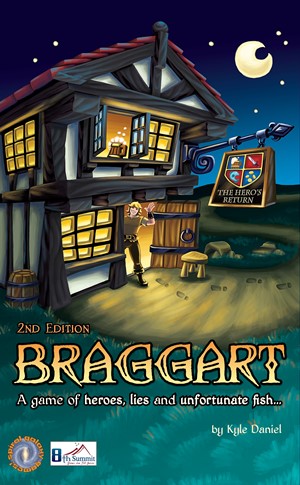 Braggart has now been printed and and this exciting and fun card game will be available in local stores, if they don't have copies then you can either let them know about us or purchase direct. The game is language dependent but we can licence other languages if required.
You sit in The Heroes Return, a tavern famed for its heroic clientele. You're not a hero, but you talk a good game. You and your friends are holding court, regaling the crowds with your tales of derring-do. Can you fight your way through a drunken haze to concoct the best boast? The most believable? Or at least ones that are funny? Or will you be called out as the liar you are?
Canal Mania 2nd Edition, licenced from Ragnar Brothers is still available.
It's a game about the great Canal building era of the eighteenth and nineteenth centuries that captures the feel of the period and gives players plenty of decision making in their attempts to complete some of the most famous British canals.
Players will engage brilliant engineers such as James Brindley and Thomas Telford in their efforts to create canals linking emerging manufacturing centres, providing the waterways that supplied the goods generated by the Industrial Revolution.
Retailer or Distributor Accounts
Our site can be used by both Distributors and Retailers by logging on with an account. Individuals will need to contact one of our Stockists to obtain copies.
Automatic discounts for Retailers and Distributors are calculated by the website but you will need to apply for an account as prices shown are RRP (less VAT), please give us a call on 01952 587482 or email us and we will be delighted to setup an account for you. Note that Retailers within the EU will be asked to provide a valid VAT number.
Shipping
Free shipping is currently applied to orders in excess of £150.00 and applies to the UK Mainland only, this excludes the Highlands and Islands of Scotland, Northern Ireland, Isle of Man and the Channel Islands..
© Spiral Galaxy Games 2008 - 2016