Spiral Galaxy Games Home Page
Spiral Galaxy Games publishes and distributes Board and Card Games, primarily to the UK but also to Europe and to the rest of the World.
If your local games store does not stock the games we sell please let them know about us. Thanks.
Now In Stock
The last batch of games we received included: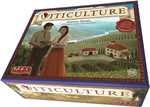 In Viticulture, the players find themselves in the roles of people in rustic, pre-modern Tuscany who have inherited meager vineyards. They have a few plots of land, an old crushpad, a tiny cellar, and three workers. They each have a dream of being the first to call their winery a true success. Every season is different on a vineyard, so the workers have different tasks they can take care of in the summer and winter. There's competition over those tasks, and often the first worker to get to the job has an advantage over subsequent workers.
Fortunately for the players, people love to visit wineries, and it just so happens that many of those visitors are willing to help out around the vineyard when they visit as long as you assign a worker to take care of them. Their visits (in the form of cards) are brief but can be very helpful. Using those workers and visitors, players can expand their vineyards by building structures, planting vines (vine cards), and filling wine orders (wine order cards). Players work towards the goal of running the most successful winery in Tuscany.
Viticulture - Essential Edition comes with components for Viticulture, but adds some of the expansions from Tuscany, including 36 Mama & Papa cards, Field cards (previously known as "Properties"), expanded/revised Visitors, and 24 Automa cards (solo variant), along with a couple of minor rule changes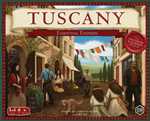 Tuscany Essential Edition features three expansions to Viticulture: the extended board (and 36 wooden stars), structure cards/mats, and special workers (14 meeples instead of the 66 in the original Tuscany, but gameplay is the same). All other expansions in the original Tuscany will go out of print. Tuscany Essential Edition is recommended for use with Viticulture Essential Edition, but older versions of Viticulture will work fine too.
The West is growing day by day, and you?re looking to stake your claim. To win, you have to gamble your relationships with the most powerful bosses in town to win influence. This influence comes in many forms: Law, Money and Force. If you?re clever enough, you?ll be able to take claim over the buildings in the ever growing boomtowns and gain powerful abilities. At the end of the day, the boss who has the best combination of wit and bluff will become the most powerful tycoon in the Wild Wild West.
The game is played in a series of rounds. Each round, poker cards are dealt between the locations, which are laid out in a circle. Players place posse members on these location cards, which will both give an action and count as a bid for the location?s valuable resources. Players also get a poker card of their own which uses the two adjacent cards from a location to form a three-card hand. This creates a clever mix of modern worker placement and poker that drives the game. In addition, players must manage their resources of Law, Money and Force to buy buildings and gunfight. If you have the highest stake in the most lucrative industry at the end, you will be rewarded bonus points. Add these points to the points you?ve collected from buying buildings and determine the winner! Yippie kay yay a!
Our Games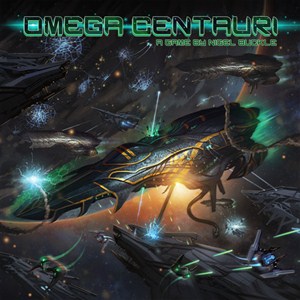 Omega Centauri is a game of galactic conquest by Nigel Buckle released at Essen Spiel 2014
After 2000 years of relentless oppression the Empire's iron grip on Omega Centauri is weakening. Now rebellion is spreading like wildfire as enslaved races try to reclaim what was theirs. Each player will control a unique race as they try to develop their technologies and culture, while also maintaining enough fleets to conquer the resource sectors fueling this development.
Players must compete against each other for the propserous systems that provide extra victory points, the dwindling resources and the technologies that will give them the edge over their opponents. Meanwhile The Empire, diminished but not defeated, will not sit idly by while you usurp it's rule; every round new fleets, technologies and defenses will be deployed to their systems to prevent the rebellions spreading.
Explore, Expand, Exploit and Exterminate!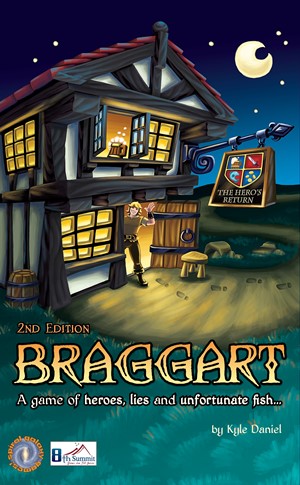 Braggart has now been printed and and this exciting and fun card game will be available in local stores, if they don't have copies then you can either let them know about us or purchase direct. The game is language dependent but we can licence other languages if required.
You sit in The Heroes Return, a tavern famed for its heroic clientele. You're not a hero, but you talk a good game. You and your friends are holding court, regaling the crowds with your tales of derring-do. Can you fight your way through a drunken haze to concoct the best boast? The most believable? Or at least ones that are funny? Or will you be called out as the liar you are?
Canal Mania 2nd Edition, licenced from Ragnar Brothers is still available.
It's a game about the great Canal building era of the eighteenth and nineteenth centuries that captures the feel of the period and gives players plenty of decision making in their attempts to complete some of the most famous British canals.
Players will engage brilliant engineers such as James Brindley and Thomas Telford in their efforts to create canals linking emerging manufacturing centres, providing the waterways that supplied the goods generated by the Industrial Revolution.
Retailer or Distributor Accounts
Our site can be used by both Distributors and Retailers by logging on with an account. Individuals will need to contact one of our Stockists to obtain copies.
Automatic discounts for Retailers and Distributors are calculated by the website but you will need to apply for an account as prices shown are RRP (less VAT), please give us a call on 01952 587482 or email us and we will be delighted to setup an account for you. Note that Retailers within the EU will be asked to provide a valid VAT number.
Shipping
Free shipping is currently applied to orders in excess of £150.00 and applies to the UK Mainland only, this excludes the Highlands and Islands of Scotland, Northern Ireland, Isle of Man and the Channel Islands..
© Spiral Galaxy Games 2008 - 2017