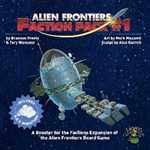 Alien Frontiers Board Game: Faction Pack #1
The first Alien Frontiers Expansion Boosters that will expand the Alien Frontiers: Factions Expansion. Each booster will contain a new Faction board, a pair of new Alien Tech cards, and any extra components that might be needed. Faction Pack #1 contains:
Xeno Explorations, Inc. is the new Faction board -- Xeno has access to a remote exploration vehicle (REV) which they drive across Planet Maxwell, looking for territories to explore and exploit.
The REV is a custom plastic vehicle miniature -- it is used to show the territory currently being explored and exploited by Xeno Explorations, Inc.
Seismic Detonator is the new Alien Tech card -- a powerful alien weapon that can clear a territory of colonies, but are you mad enough to dare use it?
Alien Frontiers Board Game: Factions Expansion
Alien Frontiers: Factions will add a number of items to the Alien Frontiers base game:
Ship and colony tokens for a fifth player.
An additional orbital facility available to all players.
Factions (thus the name), with each faction providing its owner a special ability and new locations under his control. One faction, for example, is Gaia Reborn, which allows the faction owner to use a 5 or 6 at the Terraforming Station. It also provides a docking space that anyone can use to remove a ship already docked at the Terraforming Station; to do this, a player docks a ship of any value and pays one fuel to the faction owner for the privilege of using his faction facility.
Agendas, which are hidden objectives that allow a player to earn bonus points at game's end when the agenda is revealed.
New Alien Tech cards, such as the Lunar Tunneler, which will allow its owner to pay one fuel to receive an extra ore when using the Lunar Mine. This card's discard power will send all ships docked at the Lunar Mine to the Maintenance Bay, which can be useful when the Mine is clogged with high value ships.
Alien Frontiers Board Game: Upgrade Pack
We have commissioned hand-sculpted designs for plastic miniatures for the original Alien Frontiers game. There are 8 colony tokens in the 5 player colors–each topped with a clear plastic dome, and three unique field generator miniatures. Also, attractive dock cover chits are included for 2 and 3 player games.
Sunrise City Board Game
In the tile-laying game Sunrise City, players build a city with zone tiles, bid for control of those zones, then place building tiles on the city zones to their best advantage. Each round the players use role cards to grant them special abilities in the various game phases. Points earned during play move score tokens up a ten point track. Players score one benchmark token if their score marker overshoots the star at the top of their score track but earn two benchmarks if their token lands on the star by exact count. So, Sunrise City is not a race to score the most points, it's a contest to grow the city in a manner that will earn you the right number of points at the right time to maximize your benchmarks. After three rounds, the player with the most benchmarks wins.
© Spiral Galaxy Games 2008 - 2013