Spiral Galaxy Games Home Page
Spiral Galaxy Games publishes and distributes Board and Card Games, primarily to the UK but also to Europe and to the rest of the World.
If your local games store does not stock the games we sell please let them know about us.
Now In Stock
The last batch of games we received included:
Alien Frontiers is a game of resource management, worker placement, and area control set in a retro-future scifi universe.The dice you receive at the start of the game represent the spaceships in your fleet. Docking your ships at the orbital facilities will earn resources, expand your fleet, raid your opponents, discover alien technology, trade commodities, and build colony domes to land on the planet.Winning will require careful consideration as you assign your fleet, integrate the alien technology and territory bonuses into your expansion plans, and block the other players from building colonies of their own.
Sentinels of the Multiverse: Vengeance is a mega-expansion to the award-winning cooperative comic-book card game, Sentinels of the Multiverse. In addition to 5 new heroes and 2 devious environments, this product provides a new mode of play for the heroes to face in the form of a team of villains - Players must work together to overcome their greatest challenge yet!
Eight-Minute Empire: Legends is a standalone sequel to the area control game Eight-Minute Empire and does not require the original game to play. Just like the original game, players take turns selecting a card from six on display. The card has an action that the player takes immediately, and actions help players take over the map. This game includes new card abilities, a new modular board and a new gameplay variant!
Ruse sees a terrible murder having been committed and you have making the short list of suspects. Play method, motive and opportunity cards on other players and describing the event. At the same time, use your alibi cards to defend yourself from other players accusations. The most successful accusations and alibis will be those that are crafted from all the cards played, not just your own.
Our Games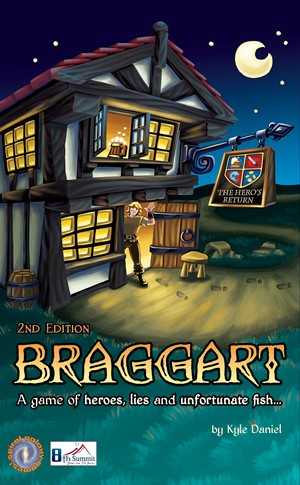 Braggart has now been printed and and this exciting and fun card game will be available in local stores, if they don't have copies then you can either let them know about us or purchase direct. The game is language dependent but we can licence other languages if required.
You sit in The Heroes Return, a tavern famed for its heroic clientele. You're not a hero, but you talk a good game. You and your friends are holding court, regaling the crowds with your tales of derring-do. Can you fight your way through a drunken haze to concoct the best boast? The most believable? Or at least ones that are funny? Or will you be called out as the liar you are?
A Brief History Of The World is available and was demoed at Essen 2009 where it was officially launched.
A Brief History Of The World is just that: a sweeping ride through the history of mankind in the space of just a few hours. The game features fifty of the mightiest Empires ever known, from the dawn of Civilisation through to the Twentieth Century - Egypt, Assyria, Persia, Greece and Imperial Rome, the Huns and Mongols, the Arabs and the Ottoman Turks, the dynasties of China and kingdoms of India, Incas and Aztecs, Portugal and Spain, France, Britain amd Germany. Can you take on the mantle of Alexander or Caesar, Genghis Khan or Napoleon? Can you write your name into the pages of history and lead your Empires to victory?
Canal Mania 2nd Edition, licenced from Ragnar Brothers is still available.
It's a game about the great Canal building era of the eighteenth and nineteenth centuries that captures the feel of the period and gives players plenty of decision making in their attempts to complete some of the most famous British canals.
Players will engage brilliant engineers such as James Brindley and Thomas Telford in their efforts to create canals linking emerging manufacturing centres, providing the waterways that supplied the goods generated by the Industrial Revolution.
Retailer or Distributor Accounts
Our site can be used by both Distributors and Retailers by logging on with an account. Individuals will need to contact one of our Stockists to obtain copies.
Automatic discounts for Retailers and Distributors are calculated by the website but you will need to apply for an account as prices shown are RRP (less VAT), please give us a call on 01952 540823 or email us and we will be delighted to setup an account for you. Note that Retailers within the EU will be asked to provide a valid VAT number.
Shipping
Free shipping is currently applied to orders in excess of £150.00 and applies to the UK Mainland only, this excludes the Highlands and Islands of Scotland, Northern Ireland, Isle of Man and the Channel Islands.
© Spiral Galaxy Games 2008 - 2014