Spiral Galaxy Games Home Page
Spiral Galaxy Games publishes and distributes Board and Card Games, primarily to the UK but also to Europe and to the rest of the World.
If your local games store does not stock the games we sell please let them know about us. Thanks.
Now In Stock
The last batch of games we received included:
October 2, 1872, Phileas Fogg is asserting that itís possible to go around the world in 80 days. The gentlemen of the Reform Club have made a bet on his failure, since they donít believe this eccentric dandy could ever succeed! However, the most troubling part of this story is the strange coincidence between the rash departure of Phileas Fogg, accompanied by his loyal valet Passepartout, and the theft of 50,000 pounds from the Bank of England!
The first lady or gentleman to return to London wins the game. However, since you left the British capital suspected of stealing from Her Majestyís bank, you will have to return to London without any Rumor cards and 10£ or less in your pocket (or rather, in your hand) in order to prove your innocence in the eyes of the world! Players will quickly discover that moving too fast drains their wallet just as fast. To win, you will have to alternate between cautious and ambitious advances, waiting for the right moment to return to the city!
Around the World in 80 Days is a beautiful and modern republication of the first ever Spiel des Jahres winner (the most prestigious Game of the Year award in 1979), thematically revisited around the timeless and beloved novel of the same name by Jules Verne.
From the ashes of war, nations rise to power in the atomic age. Each player takes control of a nation struggling for power in the latter part of the 20th century. They build up their nation?s industry, commerce, and government by acquiring resources, building structures, and tapping sources of energy. The price of oil is going up, and nuclear energy is the wave of the future. "Energy Empire" is set in the same "universe" as "The Manhattan Project", but is a stand-alone game, not an expansion.
The major threat in Energy Empire is not war, but uncertain global impacts, that result from side effects of industrialization and pollution. Many actions come with a cost. So, as nations become more industrious, they also increase the amount of pollution in the environment. Careful use of science can mitigate the harmful effects of industry, and can also help avert global crises.
"Energy Empire" uses worker placement, tableau-building, and resource management mechanics. On each turn, a player can choose to either WORK or GENERATE. On a work turn, a player plays a single worker on the main board, then uses workers and energy to activate cards in their tableau. Players may spend energy to use an occupied space on the main board, so no spaces are ever completely blocked. On a Generate turn, players get to renew their supply of energy by rolling ?energy dice? that represent nuclear, coal, oil, solar, and other forms of energy.
In HOP! players are trying to reach the top of the clouds before their opponents by completing challenges. However, to complete the challenges will require the help of your opponents, who may also benefit.
You will travel the sky and cross the path of the legendary hippopocorns. Climb cloud to cloud in order to be the first to reach the top of the sky. Each challenge you face is another chance to rise higher in the sky óbut helping other players also earns you rewards. Numerous challenges can be met only by helping or being helped by the other players. Be clever and you will gain levels, but choose your partners wisely in order to limit the points they gain alongside you. As soon as someone reaches level 7, the game comes to an end, and the player with the most points wins!.
Our Games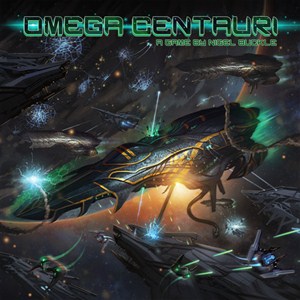 Omega Centauri is a game of galactic conquest by Nigel Buckle released at Essen Spiel 2014
After 2000 years of relentless oppression the Empire's iron grip on Omega Centauri is weakening. Now rebellion is spreading like wildfire as enslaved races try to reclaim what was theirs. Each player will control a unique race as they try to develop their technologies and culture, while also maintaining enough fleets to conquer the resource sectors fueling this development.
Players must compete against each other for the propserous systems that provide extra victory points, the dwindling resources and the technologies that will give them the edge over their opponents. Meanwhile The Empire, diminished but not defeated, will not sit idly by while you usurp it's rule; every round new fleets, technologies and defenses will be deployed to their systems to prevent the rebellions spreading.
Explore, Expand, Exploit and Exterminate!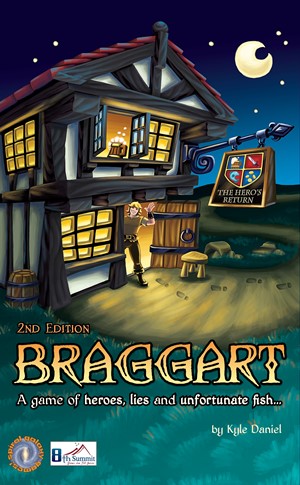 Braggart has now been printed and and this exciting and fun card game will be available in local stores, if they don't have copies then you can either let them know about us or purchase direct. The game is language dependent but we can licence other languages if required.
You sit in The Heroes Return, a tavern famed for its heroic clientele. You're not a hero, but you talk a good game. You and your friends are holding court, regaling the crowds with your tales of derring-do. Can you fight your way through a drunken haze to concoct the best boast? The most believable? Or at least ones that are funny? Or will you be called out as the liar you are?
Canal Mania 2nd Edition, licenced from Ragnar Brothers is still available.
It's a game about the great Canal building era of the eighteenth and nineteenth centuries that captures the feel of the period and gives players plenty of decision making in their attempts to complete some of the most famous British canals.
Players will engage brilliant engineers such as James Brindley and Thomas Telford in their efforts to create canals linking emerging manufacturing centres, providing the waterways that supplied the goods generated by the Industrial Revolution.
Retailer or Distributor Accounts
Our site can be used by both Distributors and Retailers by logging on with an account. Individuals will need to contact one of our Stockists to obtain copies.
Automatic discounts for Retailers and Distributors are calculated by the website but you will need to apply for an account as prices shown are RRP (less VAT), please give us a call on 01952 587482 or email us and we will be delighted to setup an account for you. Note that Retailers within the EU will be asked to provide a valid VAT number.
Shipping
Free shipping is currently applied to orders in excess of £150.00 and applies to the UK Mainland only, this excludes the Highlands and Islands of Scotland, Northern Ireland, Isle of Man and the Channel Islands..
© Spiral Galaxy Games 2008 - 2016