Spiral Galaxy Games Home Page
Spiral Galaxy Games publishes and distributes Board and Card Games, primarily to the UK but also to Europe and to the rest of the World.
If your local games store does not stock the games we sell please let them know about us.
Now In Stock
The last batch of games we received included:
VivaJava: The Coffee Game: The Dice Game, or, more simply, VivaJava Dice, is the successor to VivaJava: The Coffee Game. Just as in its predecessor, players of VivaJava Dice take on the roles of employees at the VivaJava CoffeeCo., scouring the globe for the best beans to keep the company on top while keeping themselves one step ahead of the rest of the executives. Also as in VivaJava, VivaJava Dice has players making the crucial decision between blending beans and research, but with a quick, new twist. Players must now use the dice in their pool to blend ? using the beans to create a best-seller for quick points, and then whether to press their luck in subsequent rounds for bigger points but less dice as the blends degrade ? or to research, and use their valuable beans to gain an ever-changing variety of dice-manipulating abilities, new ways to score, and paths that lead to aiding a competitor for a later payoff or hindering that competitor for immediate gratification. VivaJava Dice also offers a unique system of cooperative dice-rolling that can help you rise to the top, but at the price of someone else riding your coattails. With an astounding mix of plug-and-play research abilities, subtle social play in semi-cooperative mode, and the chance to hog all the glory and blend the best for yourself, VivaJava Dice is all about choice, making each game fast and furiously different.
Inspired by classic video games, Boss Monster challenges you to become a villain, build a dungeon, lure adventurers, and destroy them! The goal of Boss Monster is to attract and destroy adventurers more quickly than your opponents. As a Boss, you will build your dungeon one Room at a time. Each room has a treasure value to lure in Heroes, and a damage value to destroy them. The Heroes aren?t too much of a threat, but you run the risk of Wounds if you build a dungeon that?s all attraction and no bite. With Spells and ?Level Up? abilities to spice up the gameplay, Boss Monster has a great balance of fast-paced fun and strategic depth to entertain a table with a range of casual and hardcore gamers. Boss Monster is a standalone game that includes 155 cards ...everything that 2-4 players need for endless hours of dungeon-building, hero-slaying fun!
Why does a good game have to fill a gigantic box and weigh 5kg? The Level 99 Games Minigame Library is a collection of 6 games small enough to fit in your pocket, but big enough to enjoy over and over again with friends and family. Each game attempts to fill a different niche, and each provides a different play experience. This means that no matter what group you?re together with or what genre or style of game you?re looking for, you?ll be able to find pull out a game that provides 15-45 minutes of fun for a party of any size. Minigames are easy enough to teach in 5-10 minutes, but provide hours of repeated play and excitement. In a minigame, we look for a product that is simple to learn, deep to master, and extensively replayable and enjoyable. We guarantee that your fellow gamers will be requesting to play these games over and over again.
Our Games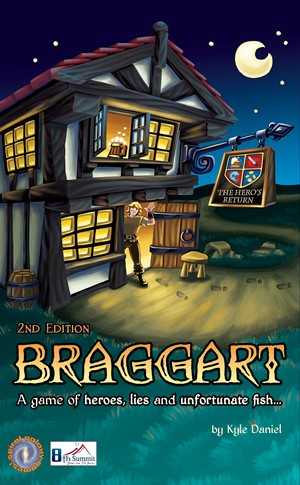 Braggart has now been printed and and this exciting and fun card game will be available in local stores, if they don't have copies then you can either let them know about us or purchase direct. The game is language dependent but we can licence other languages if required.
You sit in The Heroes Return, a tavern famed for its heroic clientele. You're not a hero, but you talk a good game. You and your friends are holding court, regaling the crowds with your tales of derring-do. Can you fight your way through a drunken haze to concoct the best boast? The most believable? Or at least ones that are funny? Or will you be called out as the liar you are?
A Brief History Of The World is available and was demoed at Essen 2009 where it was officially launched.
A Brief History Of The World is just that: a sweeping ride through the history of mankind in the space of just a few hours. The game features fifty of the mightiest Empires ever known, from the dawn of Civilisation through to the Twentieth Century - Egypt, Assyria, Persia, Greece and Imperial Rome, the Huns and Mongols, the Arabs and the Ottoman Turks, the dynasties of China and kingdoms of India, Incas and Aztecs, Portugal and Spain, France, Britain amd Germany. Can you take on the mantle of Alexander or Caesar, Genghis Khan or Napoleon? Can you write your name into the pages of history and lead your Empires to victory?
Canal Mania 2nd Edition, licenced from Ragnar Brothers is still available.
It's a game about the great Canal building era of the eighteenth and nineteenth centuries that captures the feel of the period and gives players plenty of decision making in their attempts to complete some of the most famous British canals.
Players will engage brilliant engineers such as James Brindley and Thomas Telford in their efforts to create canals linking emerging manufacturing centres, providing the waterways that supplied the goods generated by the Industrial Revolution.
Retailer or Distributor Accounts
Our site can be used by both Distributors and Retailers by logging on with an account. Individuals will need to contact one of our Stockists to obtain copies.
Automatic discounts for Retailers and Distributors are calculated by the website but you will need to apply for an account as prices shown are RRP (less VAT), please give us a call on 01952 540823 or email us and we will be delighted to setup an account for you. Note that Retailers within the EU will be asked to provide a valid VAT number.
Shipping
Free shipping is currently applied to orders in excess of £150.00 and applies to the UK Mainland only, this excludes the Highlands and Islands of Scotland, Northern Ireland, Isle of Man and the Channel Islands.
© Spiral Galaxy Games 2008 - 2014