Spiral Galaxy Games Home Page
Spiral Galaxy Games manufactures and distributes Board and Card Games, primarily to the UK but also to Europe and to the rest of the World.
If your local games store does not stock the games we sell please let them know about us.
Now In Stock
The last batch of new games we received included:
In Chicken Caesar, players represent aristocratic ancient Roman chicken families trying to create a legacy for their family name. Each family has several eligible roosters eager to jump into the world of politics, getting rich and creating a legacy by any means necessary. Mechanically, players gain and maintain areas of influence through negotiation and voting. The game features a Suffragium marker that players pass after voting to either promote a Rooster to a higher office, or throw him to the fox. Players can also strategically demand bribes for their votes or even refuse to vote (pass) to gain a later advantage.
Puzzle Strike is a card game played with cardboard chips instead of cards that simulates a puzzle video game such as Puzzle Fighter or Tetris. It's a deckbuilding game, which means you build your deck *as* you play the game. Every game is different because the bank starts with a different set of chips each time. Also, there are 10 characters to choose from in the base set, each with different gameplay. Between all that, there are over 411 MILLION starting conditions in a 4-player game, and even more if you include the expansion.
In the world of Legacy: Gears of Time, the course of history is maintained by the operators of the Ancient Machine. As an Antiquitect, the machine binds you to the present while you travel back through time. Charged with influencing the activities of the past, you are resolute in ensuring that the technological advancement of the world remains intact. Excellent planning, adaptability and influence are key to returning to the present with the greatest Legacy, claiming victory over your rivals!
The sun was shining, the sky was blue, and the only sounds whispering through the streets were the gentle moans of the undead... Can you and a friend survive the Horde together, or will you use that beating heart across the table to save your own skin? In Cahoots is the next installment in the smash hit deck building game of zombie survival, Eaten by Zombies! by Max Holliday. Featuring new Swag and new Zombies. In Cahoots can be played as a two-survivor standalone, or as a two-player expansion to Eaten by Zombies!!
Our Games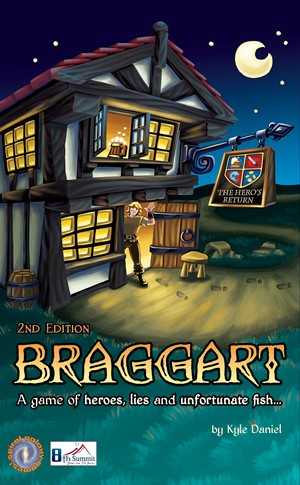 Braggart has now been printed and and this exciting and fun card game will be available in local stores, if they don't have copies then you can either let them know about us or purchase direct. The game is language dependent but we can licence other languages if required.
You sit in The Heroes Return, a tavern famed for its heroic clientele. You're not a hero, but you talk a good game. You and your friends are holding court, regaling the crowds with your tales of derring-do. Can you fight your way through a drunken haze to concoct the best boast? The most believable? Or at least ones that are funny? Or will you be called out as the liar you are?
A Brief History Of The World is available and was demoed at Essen 2009 where it was officially launched.
A Brief History Of The World is just that: a sweeping ride through the history of mankind in the space of just a few hours. The game features fifty of the mightiest Empires ever known, from the dawn of Civilisation through to the Twentieth Century - Egypt, Assyria, Persia, Greece and Imperial Rome, the Huns and Mongols, the Arabs and the Ottoman Turks, the dynasties of China and kingdoms of India, Incas and Aztecs, Portugal and Spain, France, Britain amd Germany. Can you take on the mantle of Alexander or Caesar, Genghis Khan or Napoleon? Can you write your name into the pages of history and lead your Empires to victory?
Canal Mania 2nd Edition, licenced from Ragnar Brothers is still available.
It's a game about the great Canal building era of the eighteenth and nineteenth centuries that captures the feel of the period and gives players plenty of decision making in their attempts to complete some of the most famous British canals.
Players will engage brilliant engineers such as James Brindley and Thomas Telford in their efforts to create canals linking emerging manufacturing centres, providing the waterways that supplied the goods generated by the Industrial Revolution.
Retailer or Distributor Accounts
Our site can be used by both Distributors and Retailers by logging on with an account. Individuals will need to contact one of our Stockists to obtain copies.
Automatic discounts for Retailers and Distributors are calculated by the website but you will need to apply for an account as prices shown are RRP (less VAT), please give us a call on 01952 540823 or email us and we will be delighted to setup an account for you. Note that Retailers within the EU will be asked to provide a valid VAT number.
Shipping
Free shipping is currently applied to orders in excess of £100.00 and applies to the UK Mainland only, this excludes the Highlands and Islands of Scotland, Northern Ireland, Isle of Man and the Channel Islands.
© Spiral Galaxy Games 2008 - 2013