Spiral Galaxy Games Home Page
Spiral Galaxy Games publishes and distributes Board and Card Games, primarily to the UK but also to Europe and to the rest of the World.
If your local games store does not stock the games we sell please let them know about us.
Now In Stock
The last batch of games we received included:
Xia: Legends of a Drift System is a 3-5 player sandbox style competitive space adventure. Each player starts as a lowly but hopeful captain of a small starship.

Players fly their ships about the system, completing a variety of missions, exploring new sectors and battling other ships. Navigating hazardous environments, players choose to mine, salvage, or trade valuable cargo. Captains vie with each other for Titles, riches, and most importantly Fame

.

The most adaptive, risk taking, and creative players will excel. One captain will rise above the others, surpassing mortality by becoming Legend!

Customize: Each player begins the game by choosing and customizing a Tier 1 starship. Invest all your money in engines and be a rapid, yet fragile, explorer. Put all your credits into an uber missile and watch other players flee in terror. Get a small engine and save space and credits to invest in buying and selling cargo. Or create a well rounded ship, ready for anything. In Xia, the choice is always yours.
Adapt: The goal of Xia is to become the most famous captain. Completing missions, besting ships in combat, purchasing higher tier ships, selling Cargo Cubes and claiming Titles are all ways that players can earn Fame Points. The best pilots will adapt to their surroundings, making snap judgments and changing plans on-the-fly. If you can think on your feet, you'll do well in Xia!
Sandbox: The real fun of Xia is that each game will be different. There is no set direction of play, players may choose to be peaceful traders, fierce pirates, workers, miners, opportunists, etc. The game board is randomly laid out and explored each time you play. Players might choose not to explore at all, creating a tiny arena for swift and deadly combat, or explore all 19 sectors and have a large play-scape to exploit. It's up to you!
So far your first year at the Elementary College has been slightly disappointing. So when you heard about the Big Book of Madness hidden in the great school library, you couldn't help but to sneak in and peek in this intriguing tome in spite of your professors' warnings. When you slowly lift the cover of the terrible book, dozens of dreadful creatures rush out, threatening to destroy the world itself! This was your mistake, and only you can fix it now! Learn from the library to fight back against the monsters, and try not to sink into insanity...
The Big Book of Madness is a challenging co-operative game in which the players are magic students who must act as a team to turn all the pages of the book, then shut it by defeating the terrible monsters they've just freed. Each player has their own element deck that they build during the game and use for several purposes, such as learning or casting a spell, adding a new element to their deck, destroy or healing a curse. Spells allow you to support your playmates, improve your deck, draw cards, etc but the monsters from the book fight back. Each comes with terrible curses that are triggered every turn unless you dispel them in time. They will make you discard elements, add madness cards to your deck, or lose spells...
If you manage to turn six pages and defeat all of the monsters, you win the game!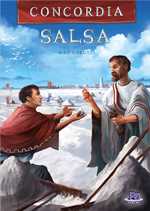 In Salsa, the new expansion for Concordia, players will discover:
Two new maps: "Byzantium" and "Hispania"
Wooden pieces for a sixth commodity: salt
City tokens for additional salt cities
More than twenty new cards

The cards are all different, can be acquired during the game, and salt your game with new strategic challenges! Some cards have permanent effects, others return to stack after using. Both the sixth commodity and the new cards can be played with the base game and the Britannia expansion as well, thus giving even more variety.
Our Games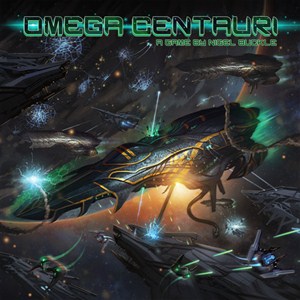 Omega Centauri is a game of galactic conquest by Nigel Buckle released at Essen Spiel 2014
After 2000 years of relentless oppression the Empire's iron grip on Omega Centauri is weakening. Now rebellion is spreading like wildfire as enslaved races try to reclaim what was theirs. Each player will control a unique race as they try to develop their technologies and culture, while also maintaining enough fleets to conquer the resource sectors fueling this development.
Players must compete against each other for the propserous systems that provide extra victory points, the dwindling resources and the technologies that will give them the edge over their opponents. Meanwhile The Empire, diminished but not defeated, will not sit idly by while you usurp it's rule; every round new fleets, technologies and defenses will be deployed to their systems to prevent the rebellions spreading.
Explore, Expand, Exploit and Exterminate!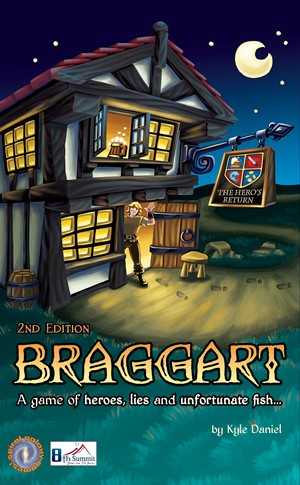 Braggart has now been printed and and this exciting and fun card game will be available in local stores, if they don't have copies then you can either let them know about us or purchase direct. The game is language dependent but we can licence other languages if required.
You sit in The Heroes Return, a tavern famed for its heroic clientele. You're not a hero, but you talk a good game. You and your friends are holding court, regaling the crowds with your tales of derring-do. Can you fight your way through a drunken haze to concoct the best boast? The most believable? Or at least ones that are funny? Or will you be called out as the liar you are?
Canal Mania 2nd Edition, licenced from Ragnar Brothers is still available.
It's a game about the great Canal building era of the eighteenth and nineteenth centuries that captures the feel of the period and gives players plenty of decision making in their attempts to complete some of the most famous British canals.
Players will engage brilliant engineers such as James Brindley and Thomas Telford in their efforts to create canals linking emerging manufacturing centres, providing the waterways that supplied the goods generated by the Industrial Revolution.
Retailer or Distributor Accounts
Our site can be used by both Distributors and Retailers by logging on with an account. Individuals will need to contact one of our Stockists to obtain copies.
Automatic discounts for Retailers and Distributors are calculated by the website but you will need to apply for an account as prices shown are RRP (less VAT), please give us a call on 01952 540823 or email us and we will be delighted to setup an account for you. Note that Retailers within the EU will be asked to provide a valid VAT number.
Shipping
Free shipping is currently applied to orders in excess of £150.00 and applies to the UK Mainland only, this excludes the Highlands and Islands of Scotland, Northern Ireland, Isle of Man and the Channel Islands.
© Spiral Galaxy Games 2008 - 2015