Mythos Tales
Welcome to H.P. Lovecraft?s Arkham, the 1920s. There will be many mysteries to uncover in this storytelling game of Lovecraftian terror. Using the provided newspaper, a list of allies, the directory of Arkham residents and a map of Arkham - your job is to follow the clues from location to location, suspect to suspect - to unravel the mystery and answer the questions posed at the end of each scenario.
Your score will depend upon the number of clues points you needed to visit, the risks you took to your sanity in your investigations and your ability to find the correct answers to the questions.
Match wits with Armitage's final score the man who has been exposed to the sanity-blasting truth about the existence of the age old evil! Can you beat his score?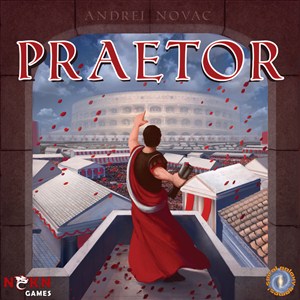 Praetor
In Praetor you will take the role of a Roman engineer and you will work together with the other players to build a magnificent city. You will manage your limited resources wisely and look for new ones, you will recruit new Workers while your old experienced ones will retire, you will build settlements to keep the population happy and you will praise the Gods to earn their favor. Caesar will reward you if you give away precious resources to build Hadrian?s Wall thus increasing your chances of becoming Praetor.
Brief History Of The World
A Brief History Of The World is just that: a sweeping ride through the history of mankind in the space of just a few hours. The game features fifty of the mightiest Empires ever known, from the dawn of Civilisation through to the Twentieth Century - Egypt, Assyria, Persia, Greece and Imperial Rome, the Huns and Mongols, the Arabs and the Ottoman Turks, the dynasties of China and kingdoms of India, Incas and Aztecs, Portugal and Spain, France, Britain amd Germany. Can you take on the mantle of Alexander or Caesar, Genghis Khan or Napoleon? Can you write your name into the pages of history and lead your Empires to victory?
Canal Mania
Canal Mania was a game about the great Canal building era of the eighteenth and nineteenth centuries that captures the feel of the period and gives players plenty of decision making in their attempts to complete some of the most famous British canals.
Players engage brilliant engineers such as James Brindley and Thomas Telford in their efforts to create canals linking emerging manufacturing centres, providing the waterways that supplied the goods generated by the Industrial Revolution.